Communiqués de presse
Thales Alenia Space signe un contrat avec Orbital ATK pour produire du matériel clé destiné aux prochaines missions de réapprovisionnement de la Station Spatiale Internationale
Communiqués de presse
Thales Alenia Space signe un contrat avec Orbital ATK pour produire du matériel clé destiné aux prochaines missions de réapprovisionnement de la Station Spatiale Internationale
Company to Provide Nine Pressurized Cargo Modules for Cygnus™ Spacecraft
Contract Builds Upon Strong Supply Relationship Between the Two Companies
Farnborough, UK 11 July 2016 – Thales Alenia Space, a joint venture between Thales (67%) and Leonardo-Finmeccanica (33%), today announced the signing of a new contract with Orbital ATK, Inc. (NYSE: OA) a global leader in aerospace and defense technologies. The announcement was made at the Farnborough International Airshow in Farnborough, UK.
Under terms of the agreement, Thales Alenia Space will supply nine additional Pressurized Cargo Modules (PCM) to Orbital ATK for upcoming cargo resupply missions to the International Space Station (ISS). The cargo module is designed to transport crew supplies and science experiments on Orbital ATK's Cygnus spacecraft under NASA's Commercial Resupply Services contract. Cygnus recently delivered 7,900 pounds of cargo and science experiments to astronauts aboard the station and successfully completed its fifth mission under the contract. Orbital ATK is scheduled to complete 10 CRS-1 missions to the International Space Station before transitioning to launch cargo logistics missions under the CRS-2 contract in 2019.
"We are truly proud of the renewed trust that Orbital ATK has put in us, said Walter Cugno, Vice President, Exploration and Science of Thales Alenia Space. "The signing of this latest contract represents the continued vote of confidence from a valued customer in our engineering and our facility that provides pressurized cargo modules to re-supply the International Space Station. We look forward to continuing this successful relationship for many years to come."
Cugno added, "This new contract not only guarantees the continuity of our role as global leaders within the field of space infrastructures but it also underlines the distinctiveness of our know-how and of our skills which we will continue to make available in the organization of future adventures beyond the Space Station in order to provide support for space exploration."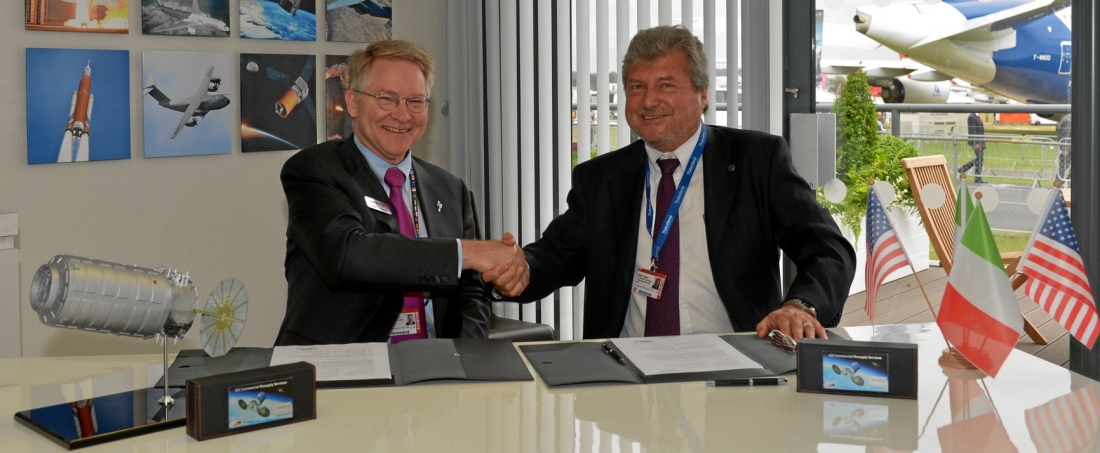 "Thales Alenia Space has been one of our most reliable and strategic partners in the area of Human Spaceflight," said David Thompson, President and Chief Executive Officer of Orbital ATK. "The pressurized cargo modules developed by Thales Alenia have worked flawlessly to establish Cygnus as a flagship product for cargo resupply missions and as a research platform for science experiments that enable deep space exploration. The enhanced pressure cargo module flown on our last two missions also enabled Cygnus to carry over 50 percent more cargo to NASA, further demonstrating the versatility and flexibility that Cygnus offers to our customers."
The Cygnus spacecraft consists of two basic components: the Service Module (SM) built by Orbital ATK and the Pressurized Cargo Module (PCM) developed by Thales Alenia Space. Building on 40 years of experience in space infrastructures and transportation systems, the Cygnus PCM developed by Thales Alenia Space calls on the company's skills and expertise developed through previous programs for the International Space Station, such as the MPLM (Multipurpose Logistics Module), built by the company on behalf of the Italian space agency for NASA, and the ATV (Automated Transfer Vehicle) Cargo Carrier, built by Thales Alenia Space for the European Space Agency.
The new configuration incorporates a number of upgrades as compared to the standard PCM utilized prior to this mission. These include a lighter and more efficient solution for storing and constraining the cargo inside the module, allowing for an increase in the mass and volume of cargo amount able to be transported to the orbiting laboratory. In addition, the new design confirmed the ability to accommodate cargo bags with both irregular shape and stiffness. The improved PCM also accommodates an increased number of middeck lockers as compared to the existing module design which enhances the capability to transport science experiments.
About Thales Alenia Space
Thales Alenia Space, a joint venture between Thales (67%) and Leonardo-Finmeccanica (33%), is a key European player in space telecommunications, navigation, Earth observation, exploration and orbital infrastructures. Thales Alenia Space and Telespazio form the two parent companies' "Space Alliance", which offers a complete range of services and solutions. Because of its unrivaled expertise in dual (civil/military) missions, constellations, flexible payloads, altimetry, meteorology and high-resolution optical and radar instruments, Thales Alenia Space is the natural partner to countries that want to expand their space program. The company posted consolidated revenues in excess of 2.1 billion euros in 2015, and has 7,500 employees in 8 countries. www.thalesaleniaspace.com
Thales Alenia Space Press Contacts
Sandrine Bielecki
Tel: +33 (0)4 92 92 70 94
sandrine.bielecki@thalesaleniaspace.com
Tiziana Ebano
Tel: +39 06 41512574
tiziana.ebano@thalesaleniaspace.com
About Orbital ATK
Orbital ATK is a global leader in aerospace and defense technologies. The company designs, builds and delivers space, defense and aviation systems for customers around the world, both as a prime contractor and merchant supplier. Its main products include launch vehicles and related propulsion systems; missile products, subsystems and defense electronics; precision weapons, armament systems and ammunition; satellites and associated space components and services; and advanced aerospace structures. Headquartered in Dulles, Virginia, Orbital ATK employs more than 12,000 people in 18 states across the U.S. and in several international locations. For more information, visit www.orbitalatk.com.
Orbital ATK Media Contact:
Vicki Cox (703) 406-5663
Director of Communications
Orbital ATK's Space Systems Group
vicki.cox@orbitalatk.com
Orbital ATK Investor Contact:
Barron Beneski (703) 406-5528
Vice President of Investor Relations
Orbital ATK
barron.beneski@orbitalatk.com