Communiqués de presse
Thales Alenia Space signe un contrat avec l'Agence spatiale britannique pour travailler sur une mission liée au changement climatique
United Kingdom, November 9, 2017 –
A UK company has been selected to undertake the Assembly, Integration and Test (AIT) for a satellite which will help tackle climate change, Science Minister Jo Johnson announced today.
Thales Alenia Space has signed a contract with the UK Space Agency to work on MicroCarb, a joint UK-French satellite mission which will measure sources and sinks of carbon, the principal greenhouse gas driving global warming. It is the first European mission intended to characterise greenhouse gas fluxes on Earth's surface and gauge how much carbon is being absorbed by oceans and forests, the main sinks on the planet.
The mission, scheduled to launch in 2020, will also contribute to international efforts to measure how much carbon gas is being emitted by natural processes and human activities. MicroCarb will enable the UK Space Agency and CNES to pave the way for a longer term operational system in response to the Paris COP21 Agreement.
Thales Alenia Space engineers will work closely with the CNES project team and then take full responsibility to manage and deliver the satellite AIT programme at the UK's National Satellite Test Facility (NSTF) in Harwell. This world class facility, due to open in 2020, has been awarded £99 million in funding by the UK Government's Industrial Strategy Challenge Fund to boost the UK's space capabilities for the design and build of more complex space instruments and technologically advanced satellites.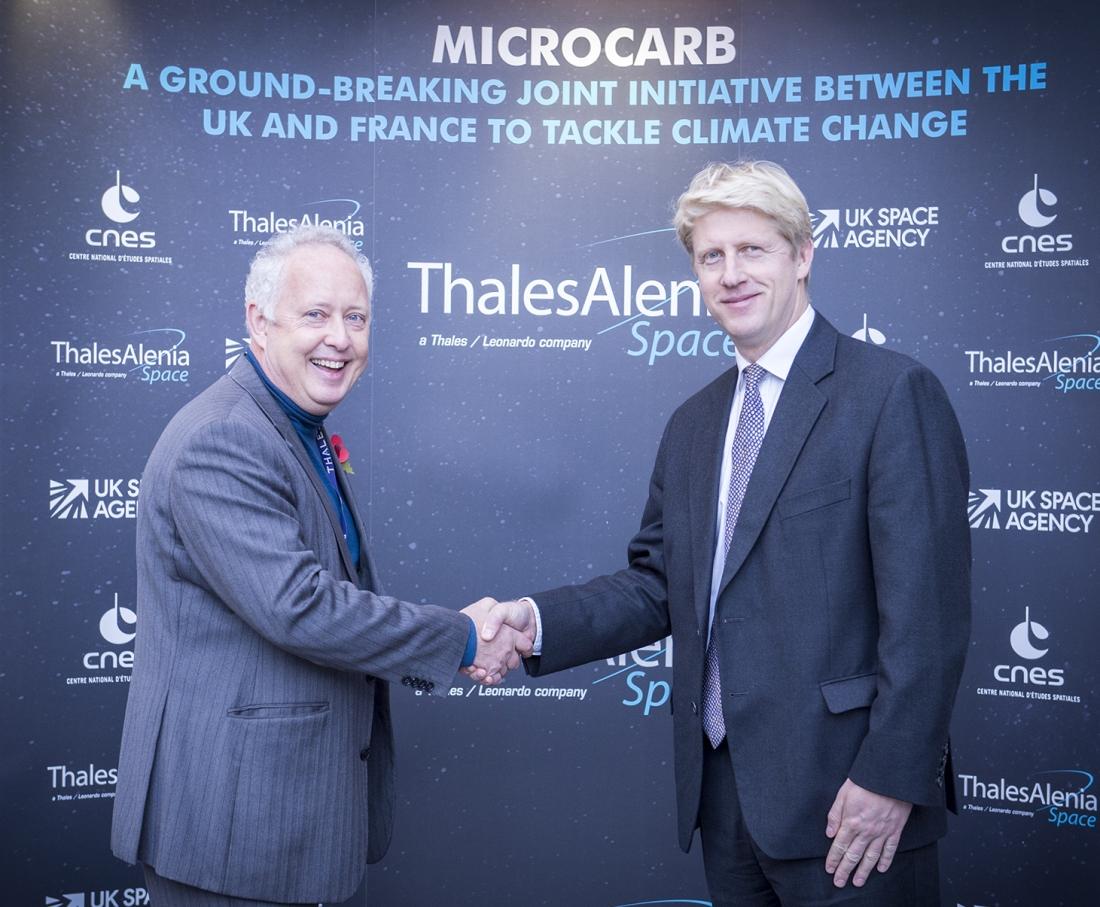 Science Minister, Jo Johnson, speaking on a visit to Thales Alenia Space's Belfast facility, said: "The UK space sector is brimming with talent and our collaboration with France on MicroCarb is an excellent platform to demonstrate our cutting-edge science and engineering, which is at the core of our Industrial Strategy. It is great to see our £99m investment in the new National Satellite Test Facility is already making a difference for the sector. This facility will make Harwell a world-class hub for innovative space technology, helping UK companies like Thales Alenia Space be more competitive in the global market and support our ambition to capture 10% of the global space market by 2030."
The contract reflects Thales Alenia Space's strategy of growing its European footprint and is fully in line with market trends and growth dynamics.
Ben Olivier, CEO of Thales Alenia Space in the UK, said: "MicroCarb will be a significant demonstration of what space technology and science from satellites can contribute to the understanding of the carbon cycle; ultimately helping decision makers to develop the best policies to make the World a better place. We are proud to be a part of this effort."
For Thales Alenia Space in the UK, this is a significant milestone in the recognition of the company's developing capability as a Prime contractor in the UK for major space missions.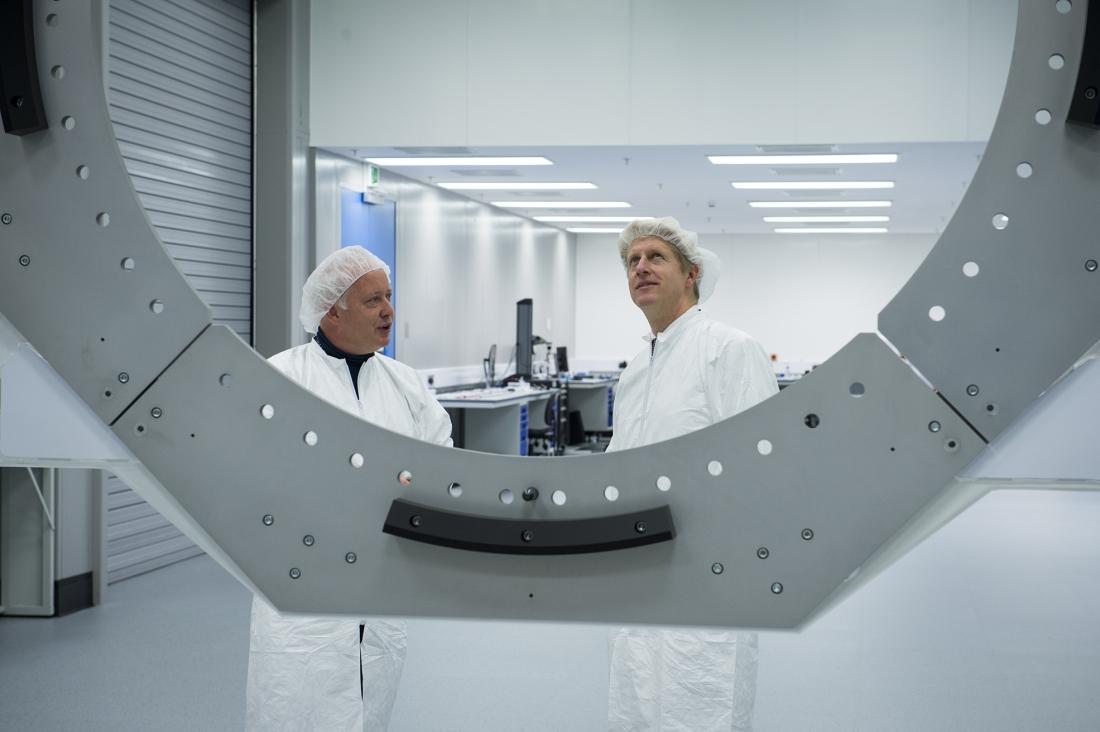 The Assembly Integration and Test of the MicroCarb satellite is Thales Alenia Space in the UK's first opportunity to work with CNES to deliver on an important Earth Observation Mission. It also demonstrates the confidence and trust placed in Thales Alenia Space in the UK and its teams of highly skilled engineers.
-Ends-

UK Space Agency
The UK Space Agency leads the UK efforts to explore and benefit from space. It works to ensure that our investments in science and technology bring about real benefit to the UK and to our everyday lives. The Agency is responsible for all strategic decisions on the UK civil space programme. As part of the Department for Business, Energy & Industrial Strategy, the UK Space Agency helps realise the government's ambition to grow our industry's share of the global space market to 10% by 2030.
The UK Space Agency:
supports the work of the UK space sector, raising the profile of space activities at home and abroad.
helps increase understanding of our place in the universe, through science and exploration and its practical benefits.
inspires the next generation of UK scientists and engineers.
regulates and licences the launch and operation of UK spacecraft, launch operators and spaceports.
promotes co-operation and participation in the European Space Agency and with our international partners.
Contact: Gareth Bethell, Media Manager at UK Space Agency, 01793 418069 or
comms@ukspaceagency.bis.gsi.gov.uk
About MicroCarb
MicroCarb Is a satellite mission to launch in 2020 designed to map sources and sinks of carbon dioxide (CO2). Its dispersive spectrometer instrument will be able to measure the total column concentration of CO2 with a high degree of precision over the whole Earth, and on a regional scale to inform climate change decision making. At COP21 France announced the intention to launch the first European Carbon mission in the context of the international challenge of understanding the regional fluxes of carbon. All nations will need to monitor carbon in the coming years. The UK has a special relationship with France and a bilateral agreement signed by the PM in January 2014 agreed to work together on space programmes. Under this agreement and recognising the UK's strength in climate, carbon and satellite earth observation, the French Space Agency CNES asked the UK to be a mission partner. UK Space Agency's investment in MicroCarb establishes a solid basis for a stake in future CO2 measuring missions and allows our industry and academia a privileged position in developing technology and skills to underpin the growing carbon monitoring market. Our investment strengthens the UK's science base and our developing status as a leader in Earth Observation data processing for Essential Climate Variables (ECVs).

About Thales Alenia Space
Combining 40 years of experience and a unique diversity of expertise, talents and cultures, Thales Alenia Space architects design and deliver high technology solutions for telecommunications, navigation, Earth observation, environmental management, exploration, science and orbital infrastructures. Governments, institutions and companies rely on Thales Alenia Space to design, operate and deliver satellite-based systems that help them position and connect anyone or anything, everywhere, help observe our planet, help optimize the use of our planet's – and our solar system's – resources. Thales Alenia Space believes in space as humankind's new horizon, which will enable to build a better, more sustainable life on Earth. A joint venture between Thales (67%) and Leonardo (33%), Thales Alenia Space also teams up with Telespazio to form the parent companies' Space Alliance, which offers a complete range of services and solutions. Thales Alenia Space posted consolidated revenues of about 2.4 billion euros in 2016 and has 7,980 employees in nine countries. www.thalesaleniaspace.com
Media Contact:
Sandrine Bielecki
Phone: +33 (0)4 92 92 70 94
sandrine.bielecki@thalesaleniaspace.com
Chrystelle Dugimont
Phone: +33 (0)4 92 92 74 06
chrystelle.dugimont@thalesaleniaspace.com
Cinzia Marcanio
Tel: +39 06 41512685
cinzia.marcanio@thalesaleniaspace.com
About Thales Alenia Space in the UK
Thales Alenia Space in the UK was established in 2014 with offices in Bristol, Harwell and Belfast and is a leader in propulsion systems, Earth Observation and Science mission subsystems, and next generation payloads for telecoms, military satellites and UK satellite constellations. Thales Alenia Space in the UK is also responsible for the Broadband Radiometer – a space borne instrument, as part of the European Space Agency 'Earthcare' programme, which will help scientists understand and monitor global warming.
Media contact: Jill Hutchinson +44 (0) 7854 959 805