Sous les projecteurs
Paré au lancement des 10 prochains satellites Iridium® NEXT!
Sous les projecteurs
Paré au lancement des 10 prochains satellites Iridium® NEXT!
With the launch of the second batch of Iridium
®
NEXT satellites coming very shortly, we asked Denis Allard, Thales Alenia Space Vice President, Telecom Constellations, to share the latest news on this program.
Space Q&A: Could you summarize the main points behind the Iridium NEXT system for our readers?
Denis Allard: Iridium® NEXT is a constellation of telecommunications satellites in low Earth orbit. Built by Thales Alenia Space as prime contractor for Iridium, the constellation will count 66 operational satellites in orbit, nine in-orbit spares, and six more on the ground. With 81 satellites in all and a special system architecture, Iridium® NEXT is one of the most complex and ambitious space programs ever developed. It is designed to connect thousands of users around the world, via an ingenious network that links dozens of telecom satellites circling the planet.
© Thales Alenia Space/Master Image Programmes

Space Q&A: What about the first batch of ten satellites, already launched?
D.A: That launch took place on January 14, under a sparkling blue California sky. All the stars were aligned for that mission. But it was a daunting challenge: SpaceX had to not only launch ten satellites in one fell swoop, but also recover part of their launcher. The launch had to be successful, so these first Iridium® NEXT satellites could take over for their older brothers, which had been in orbit for nearly 20 years. The launch was widely covered in the media, and it was quite simply beautiful, with everybody's emotions at fever pitch. And even with the successful launch, we had to wait many minutes to find out if the ten satellites had been correctly deployed, because of a short break in communications with the ground station. It was only minutes, but seemed like an eternity. Finally we received confirmation that the telemetry signals had been received and everything was A-OK! We all breathed a quick sigh of relief, then got back to our orbital positioning operations and tests of the ten satellites.


VIDEO: Iridium® NEXT, a constellation story! Episode 1 : look back to the first launch!
Space Q&A: What role does Thales Alenia Space play in this program?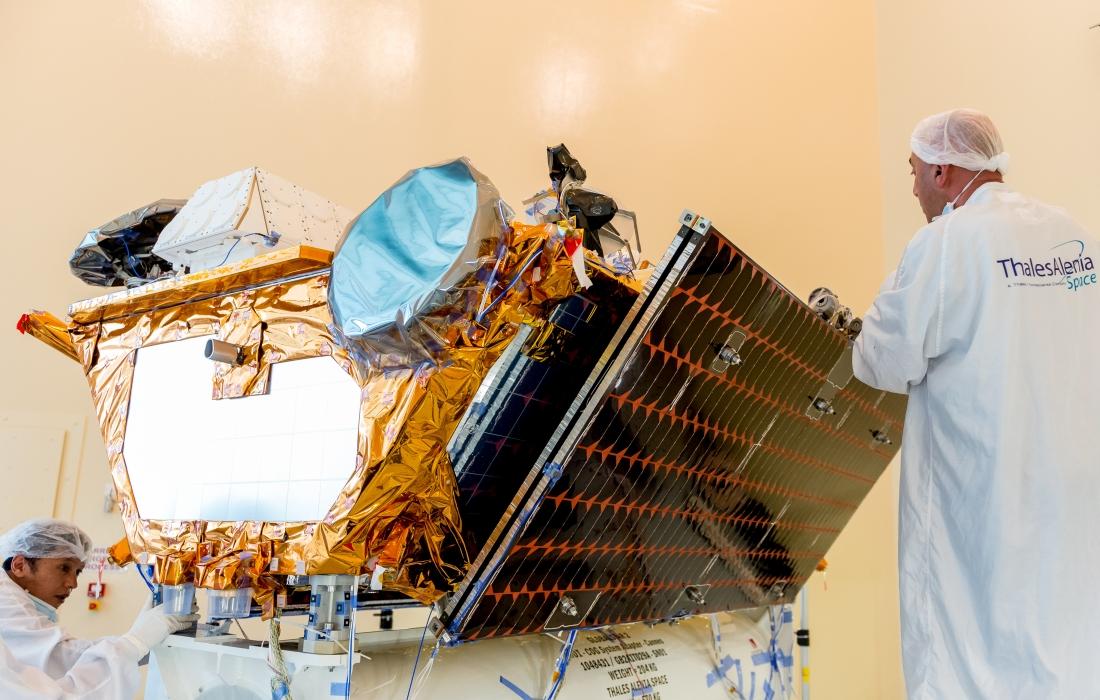 © Thales Alenia Space/Imag[IN]
D.A. Thales Alenia Space is prime contractor for the Iridium® NEXT program, in charge of engineering, integration, operations and in-orbit validation of the 81 satellites and the overall system. The first ten satellites showed that Iridium® NEXT is perfectly compatible with the existing system, and also allowed us to make sure they were functioning correctly. Results so far are perfectly in line with expectations, or even better, to the great satisfaction of our customer, Iridium.

Space Q&A: What are the three high points for you so far?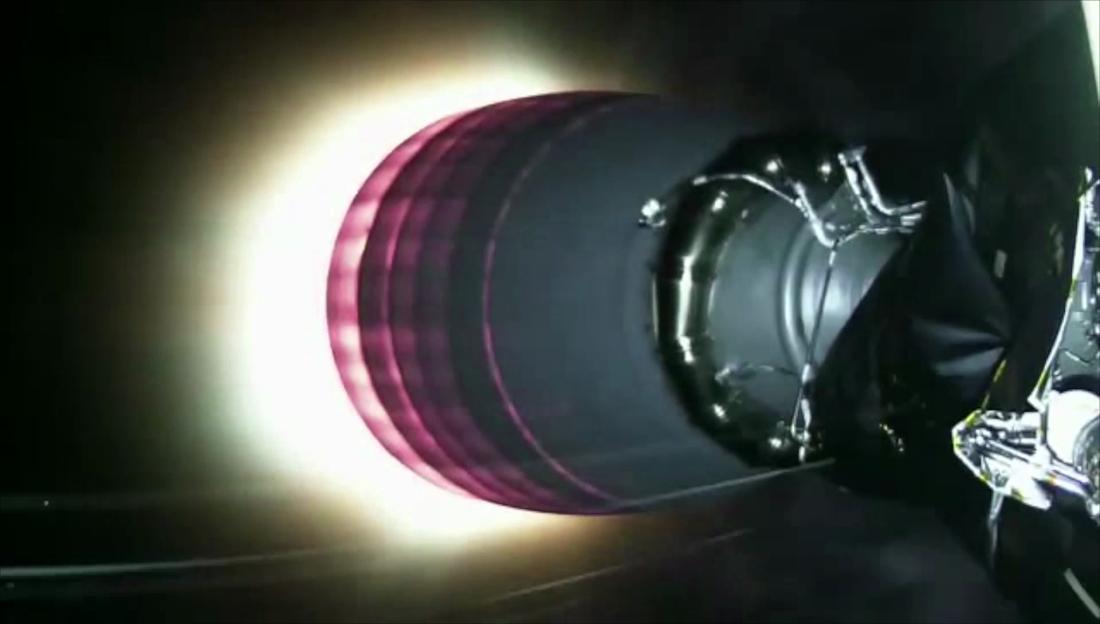 © SpaceX

The launch: it's always a very emotional moment, all the more this time since ten satellites were lofted at once!
The first phone call, using an Iridium® NEXT handset, between Matt Desch (CEO of Iridium) and Bertrand Maureau (EVP telecommunications, Thales Alenia Space)
The first replacement of a first-generation satellite by an Iridium® NEXT satellite – there was absolutely no room for error!
Space Q&A: Since, how has the constellation been doing?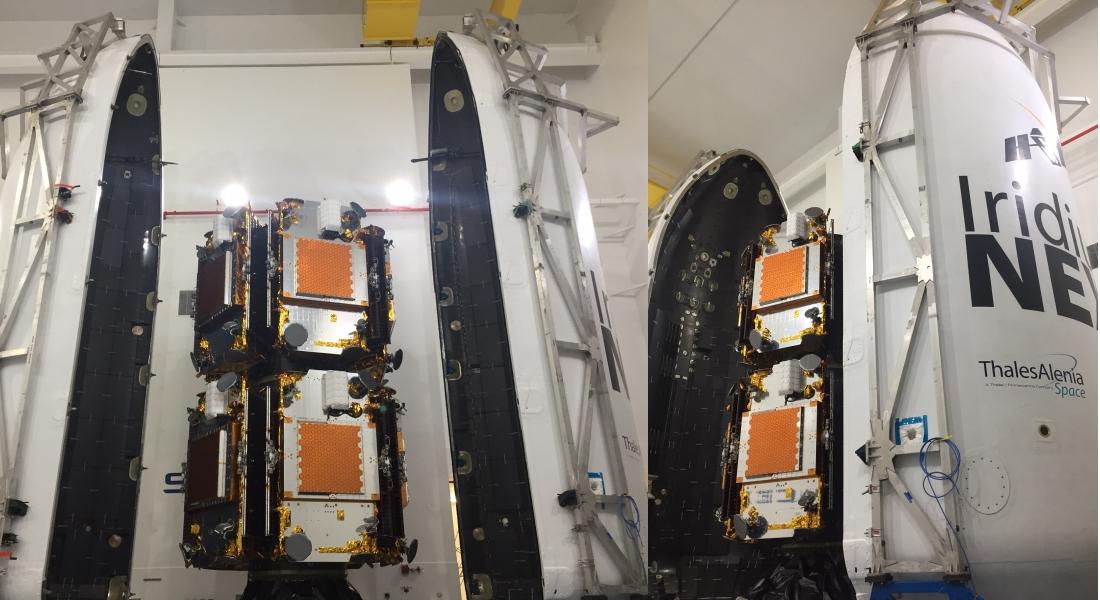 © SpaceX
D.A. Couldn't be better! (laughs). As you know, the first ten satellites have been validated in orbit: eight of them have been integrated in the grid for the existing satellites, and are replacing them one by one; the two others are headed for another orbital plane. The system is operating perfectly, beyond all our expectations! The first eight Iridium® NEXT satellites were integrated without the slightest interruption in user service. It was a totally transparent operation, one that earned Thales Alenia Space and our partners personal congratulations from Matt Desch. With the in-orbit validation of these first satellites, that gave us the green light for the second launch, slated for June 25. The production of the 26 other satellites has now been completed. We have also started integration of the 57th satellite. Everything is on track to meet our objective, namely to launch all 75 Iridium® NEXT orbital satellites by mid-2018.


Space Q&A – How do you feel about working on such a large-scale, landmark space program as Iridium® NEXT?
D.A. For me, it's a real privilege! In addition to being a real feat of technological prowess, Iridium® NEXT also provides global coverage and doesn't require local ground infrastructure due to how the satellites can communicate with one another, so it can provide vital assistance under certain circumstances (people lost in isolated areas, natural disasters, conflicts, etc.) And that's why all of us feel so proud to have contributed to this program!


Video: © Thales Alenia Space/Master Image Programmes