Thales Alenia Space is platinum sponsor at the 2023 UK Space Conference, held from November 21 to 23, in Belfast. Organized under the auspices of the UK Space Agency, this conference brings together all major players in the space sector, including manufacturers, institutions, researchers, universities and agencies. Our teams will be highlighting our latest solutions on our booth, in the fields of lunar exploration, telecommunications and Earth observation including environmental monitoring.
Back to the Moon to stay
©ESA
More than 50 years after the last Apollo mission, the return of astronauts to the Moon is more meaningful than ever. Last year, ARTEMIS I was a tremendous success. The unmanned mission served to validate the proper functioning of the spacecraft. This mission prefigures Artemis II, scheduled for launch at the end of 2024, with real astronauts on board. Artemis II will orbit the Moon but will not land. It will be necessary to wait until 2025, with Artemis III, so that the Humanity can again walk on the Moon. Thales Alenia Space engineers are proud to be onboard Orion's capsule. The company is supplying the thermomechanical systems for the European service module.
After delivering a key part of the ISS' habitable volume, Thales Alenia Space has become a major provider onboard future Gateway cislunar space station. The world leader in pressurized modules, the company is a top industry partner on the Lunar Gateway, a 40-metric-ton space station for which we are supplying the ESPRIT and I-HAB pressurized modules to ESA, and the HALO module to Northrop Grumman.
Lunar Gateway © Thales Alenia Space
Our teams are also working on the design of lunar shelters. Based on domotic architecture, these habitats will ensure the availability of vital resources (water, power) stored or generated on the Moon's surface. These new infrastructures are intended to allow the crew to work in complete safety and live in a comfortable lunar environment. This is part of a larger feasibility study contract on behalf of the Italian Space Agency (ASI) to design concepts to support a human presence on the Moon, within the scope of NASA's Artemis program.
Our company supplies as well the first 2 modules of the world's first commercial space station, Axiom. We also provide all pressurized cargo modules dedicated to Cygnus resupply vessels, whose mission is to deliver twice a year several tons of food, supplies, water, fuel, repairs and science experiments to astronauts onboard the International Space Station.
A wide range of applications offered by Earth observation systems
Space intelligence
Our space systems supply high-precision imagery to many nations through our range of high- and very-high-resolution optical and radar instruments, unrivaled in Europe. The return of high-intensity conflicts calls for different doctrines concerning space-based Earth-observation assets, like the combination of very-high-performance optical and radar systems. Intelligence services will also be able to rely on new technologies like high-revisit-rate optical and/or radar constellations. Thales Alenia Space has recently launched its "All-In-One" Earth Observation solution. This constellation of microsatellites includes the best of radar, optical and ground segment capabilities to offer high revisit, high resolution and fast reactivity for near-real time surveillance.
Environmental monitoring
Thales Alenia Space in the UK is involved in two major missions related to environmental monitoring: MicroCarb and FLEX
MicroCarb: Europe's first atmospheric carbon monitoring mission
MicroCarb © Thales Alenia Space
MicroCarb is a joint French-British mission, with French space agency CNES as prime contractor to show how space-based science can help us better understand the vital carbon cycle. MicroCarb is designed to precisely monitor the Earth's atmospheric CO2 and detect the changes associated with surface emissions and carbon uptake across cities, forests and oceans worldwide. A special city-scanning mode will allow mapping CO2 distribution in cities, which are responsible for a majority of global emissions.
MicroCarb is actually the first satellite to complete the whole test campaign under the leadership of Thales Alenia Space UK, bringing this key climate mission a step closer to launch expected in 2024.
FLEX: monitoring plant health from Space
FLEX © Thales Alenia Space
From over 800 km above Earth, ESA's Fluorescence Explorer (FLEX) mission will yield information about the health of the world's plants by measuring a faint glow they give off as they convert carbon dioxide and sunlight into energy-rich carbohydrates. The information gathered will be used to improve our understanding of how carbon moves between plants and the atmosphere and how photosynthesis affects the carbon and water cycles. The mission will also give us better insight into plant health, which is especially important since Earth's growing population is placing increasing demands on the production of food and animal feed.
As prime contractor, Thales Alenia Space is leading a consortium including its own subsidiaries and partners from the space industry. Thales Alenia Space in the UK is in charge of the satellite's propulsion system, as well as assembly, integration and testing (AIT) while Thales Alenia Space in Spain provides the radio-frequency subsystem, including X-band and S-band transponders, and RUAG contributes to the design and production of the platform.
FLEX will carry the florescence imaging spectrometer called Floris, provided under Leonardo's responsibility, to map vegetation fluorescence around the globe and quantify photosynthetic activity and plant stress.
Bridging the digital divide and connecting people all over the world
Operating alongside terrestrial infrastructure, satellite communication systems deliver a whole host of services — TV and radio broadcasting, broadband internet and more — to bring digital connectivity to all.
We've designed and built satellites on our Spacebus NEO platform with electric propulsion systems. Using electric propulsion increases payload capacity, giving operators greater flexibility. Spacebus NEO is ideally suited to delivering superfast satellite broadband and bridging the digital divide anywhere in the world. EUTELSAT KNNECT VHTS is of them.
EUTELSAT KONNECT VHTS: successful entry into service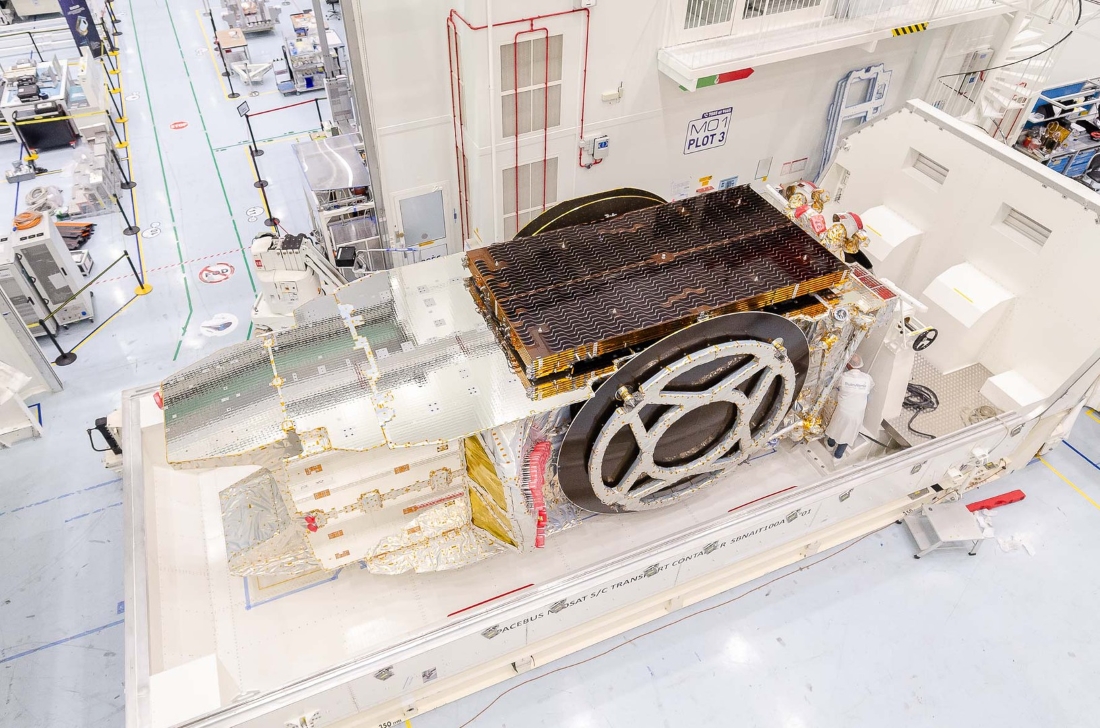 EUTELSAT KONNECT VHTS © Thales Alenia Space/Imag[IN]
The most powerful satellite ever built in Europe, EUTELSAT KONNECT VHTS entered into service in October 2023. It will provide fixed, mobile and government connectivity across Europe, North Africa and the Middle East. It will provide very-high-speed Internet access everywhere in Europe, especially in isolated regions with poor coverage, delivering service on a par with fiber-optic networks in terms of performance and cost. With instantaneous throughput of 500 Gbps across Europe, EUTELSAT KONNECT VHTS will make a significant contribution to bridging the digital divide. It features a state-of-the-art payload using disruptive technologies developed with support from the French government, via the space agency CNES as well as the Investment in the Future Program, and ESA, the European Space Agency. The payload includes a high-performance digital processor that combines agile capacity allocation, optimized spectrum use and support as well as gradual ground network coverage deployment.
Space INSPIRE: a tailor-made solution for operators
Space INSPIRE © Thales Alenia Space
Last year, the company was awarded contracts to build six communication satellites, including 5 based on our new Space INSPIRE solution. This extremely flexible software-defined solution can be reconfigured in orbit. Operators such as SES, Intelsat, Arabsat and Eutelsat strongly believe in that pioneering solution.
The propulsion subsystems embarked onboard our Spacebus NEO (SES-17, ASTRA 1P, SATRIA, EUTELSAT KONNECT, EUTELSAT KONNECT VHTS, Amazonas Nexus) and Space INSPIRE satellites are designed and integrated at Thales Alenia Space in the UK.
Eager to know more about our solutions? Come and see us during the event: booth B10, Hall 1, at the Belfast International Conference Centre.