Alongside Thales, Thales Alenia Space will spotlight its latest solutions during the 2023 Dubai AirShow, taking place from November 13 to 17. The company will emphasize its products and technologies in the fields of lunar exploration, Earth observation for both civil and defense applications, dual telecommunications and many more.
Space to Explore: Back to the Moon to stay
© NASA
More than 50 years after the last Apollo mission, the return of astronauts to the Moon is more meaningful than ever. Last year, ARTEMIS I was a tremendous success. The unmanned mission served to validate the proper functioning of the spacecraft. This mission prefigures Artemis II, scheduled for launch at the end of 2024, with real astronauts on board. Artemis II will orbit the Moon but will not land. It will be necessary to wait until 2025, with Artemis III, so that the Humanity can again walk on the Moon. Thales Alenia Space engineers are proud to be onboard Orion's capsule. The company is supplying the thermomechanical systems for the European service module.
After providing a major part of the ISS' habitable volume, Thales Alenia Space has become a major provider onboard future Gateway cislunar space station. The world leader in pressurized modules, the company is a top industry partner on the Lunar Gateway, a 40-metric-ton space station for which we are supplying the ESPRIT and I-HAB pressurized modules to ESA, and the HALO module to Northrop Grumman.
Lunar Gateway © Thales Alenia Space
Our teams are also working on the design of lunar shelters. Based on domotic architecture, these habitats will ensure the availability of vital resources (water, power) stored or generated on the Moon's surface. These new infrastructures are intended to offer the crew the possibility of working in complete safety and living in a comfortable lunar environment. This is part of a larger feasibility study contract on behalf of the Italian Space Agency (ASI) to design concepts to support a human presence on the Moon, within the scope of NASA's Artemis program.
Our company will provide as well the first 2 modules of the world's first commercial space station, Axiom. We also provide all pressurized cargo modules dedicated to Cygnus resupply vessels, whose mission is to deliver twice a year several tons of food, supplies, water, fuel, repairs and science experiments to astronauts onboard the International Space Station.
Space to secure & defend
Milsatcom
Military communications satellites are set to become increasingly interconnected, operating from different orbits across resilient and diverse networks. At any given moment, armed forces will be able to combine the global coverage and low latency of low-Earth, medium-Earth and polar constellations with the power and resilience of geostationary satellites like the Italian Sicral 3 and French SYRACUSE IV systems, affording the mobility, performance and dependability required to conduct high-intensity operations.
Space intelligence
Our space systems supply high-precision imagery to many nations through our range of high- and very-high-resolution optical and radar instruments, unrivaled in Europe. The return of high-intensity conflicts calls for different doctrines concerning space-based Earth-observation assets, like the combination of very-high-performance optical and radar systems. Intelligence services will also be able to rely on new technologies like high-revisit-rate optical and/or radar constellations. Thales Alenia Space has recently launched its "All-In-One" Earth Observation solution. This constellation of microsatellites includes the best of radar, optical and ground segment capabilities to offer high revisit, high resolution and fast reactivity for near-real time surveillance.
Stratobus: midway between a satellite and a drone
Stratobus © Thales Alenia Space
Ideally complementing conventional satellites, Stratobus is a future autonomous multi-mission stratospheric platform, the missing link between the drone and the satellite. It is aimed at regional civil and military communications, navigation and observation applications. Stratobus is a groundbreaking technology that does not require a launcher. It will serve armed forces and emergency management agencies, offering a continuous regional presence. It will also support environmental surveillance applications, notably pollution monitoring and wildfire detection.
Space to connect: digital connectivity for all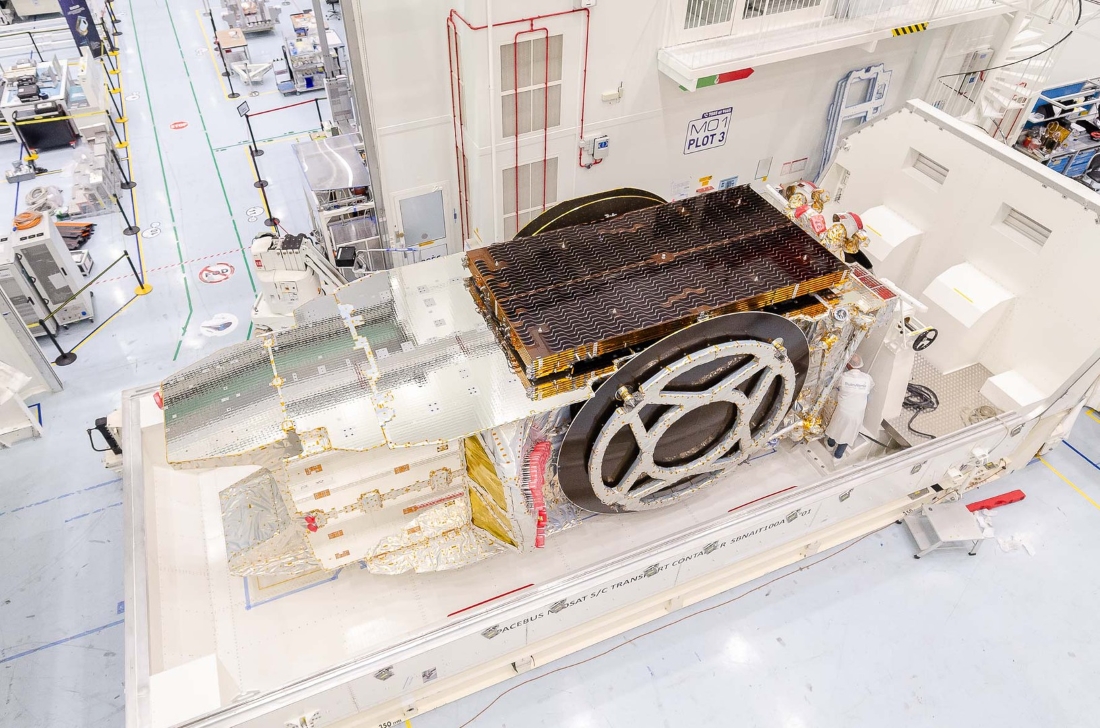 EUTELSAT KONNECT VHTS © Thales Alenia Space/Imag[IN]
Operating alongside terrestrial infrastructure, satellite communication systems deliver a whole host of services — TV and radio broadcasting, broadband internet and more — to bring digital connectivity to all. EUTELSAT KONNECT VHTS, the most powerful satellite ever built in Europe, entered into service in October 2023. Built by Thales Alenia Space, It will provide very high speed internet across Europe, including remote regions with patchy coverage, offering service on a par with terrestrial fiber networks. Last year, the company was also awarded contracts to build six communication satellites, including 5 based on our new Space INSPIRE solution. This extremely flexible software-defined solution can be reconfigured in orbit and has been selected by major operators such as SES, Intelsat, Eutelsat and Arabsat.