Communiqués de presse
Une exposition à l'aéroport de Turin met en lumière la contribution de Thales Alenia Space aux grands programmes spatiaux
Turin, March 6, 2017 –
Thales Alenia Space, the joint venture between Thales (67%) and Leonardo (33%), inaugurated on March 3rd an exhibition at Sandro Pertini airport in Turin, highlighting two of its recent major space programs: IXV, the European atmospheric reentry demonstrator, and ExoMars, a European program to explore the Red Planet. Attending the inauguration ceremony were Chiara Appendino, Mayor of Turin, Donato Amoroso, CEO of Thales Alenia Space Italy, and Roberto Barbieri, CEO of Sagat, the airport management company.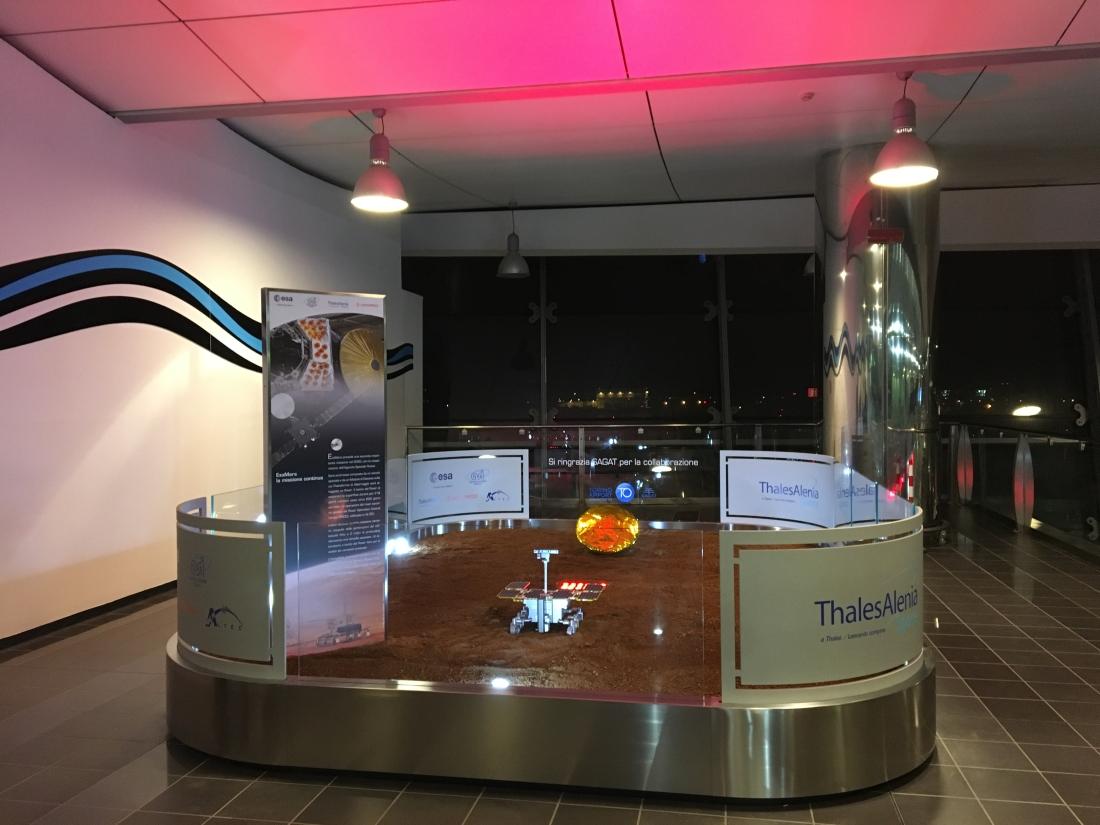 The exhibition is designed to highlight the industrial and scientific heritage of Turin, and Thales Alenia Space's major contributions to landmark space programs.About Thales Alenia Space Thales Alenia Space brings over 40 years of experience to the design, integration, testing and operation of innovative space systems for telecommunications, navigation, Earth observation, environmental management, exploration, science and orbital infrastructures. A joint venture between Thales (67%) and Leonardo (33%), Thales Alenia Space also teams up with Telespazio to form the parent companies' "Space Alliance", which offers a complete range of services and solutions. Thales Alenia Space has built up unrivaled expertise in dual (civil-military) missions, constellations, flexible high-throughput payloads, altimetry, meteorology, and high-resolution radar and optical observation, as well as space exploration. The company capitalizes on its strong legacy, while also making innovation a key to its strategy. By offering a continuous stream of new products and expanding its global footprint, Thales Alenia Space has established its leadership in today's fast-evolving space sector. Thales Alenia Space posted consolidated revenues exceeding 2.1 billion euros in 2015 and has 7,500 employees in nine countries. www.thalesaleniaspace.com
"I am very proud of the long-standing ties between our company and the city of Turin," said Donato Amoroso, CEO of Thales Alenia Space Italy. "Organizing an exhibition in this strategic venue reflects our goal of showing how the space industry is an integral part of Turin's economic and social development." Built over 40 years ago, Thales Alenia Space's Turin plant is deeply-rooted in the area. It covers some 50,000 square meters, including labs, clean rooms and production areas, and has made major contributions to leading scientific and Solar System exploration missions, including the construction of modules for the International Space Station and the development of the IXV reentry vehicle.
Thales Alenia Space Press Contacts:
Sandrine Bielecki
Tel: +33 (0)4 92 92 70 94 sandrine.bielecki@thalesaleniaspace.com
Chrystelle Dugimont
Tel: +33 (0)4 92 92 74 06 chrystelle.dugimont@thalesaleniaspace.com