Communiqués de presse
Le satellite de télécommunications «Inmarsat S-Band / Hellas Sat 3» a rejoint le site de lancement de Kourou en Guyane Française
Communiqués de presse
Le satellite de télécommunications «Inmarsat S-Band / Hellas Sat 3» a rejoint le site de lancement de Kourou en Guyane Française
Cannes, May 24, 2017
– Europasat, the "Inmarsat S-band / Hellas Sat 3" telecommunication satellite, has been shipped to the Kourou launch pad in French Guyana to be launched by Ariane 5 rocket in June. This condominium satellite for Inmarsat and Hellas Sat will provide Mobile Satellite Services (MSS), Fixed Satellite Services (FSS) and Broadcast Satellite Services (BSS).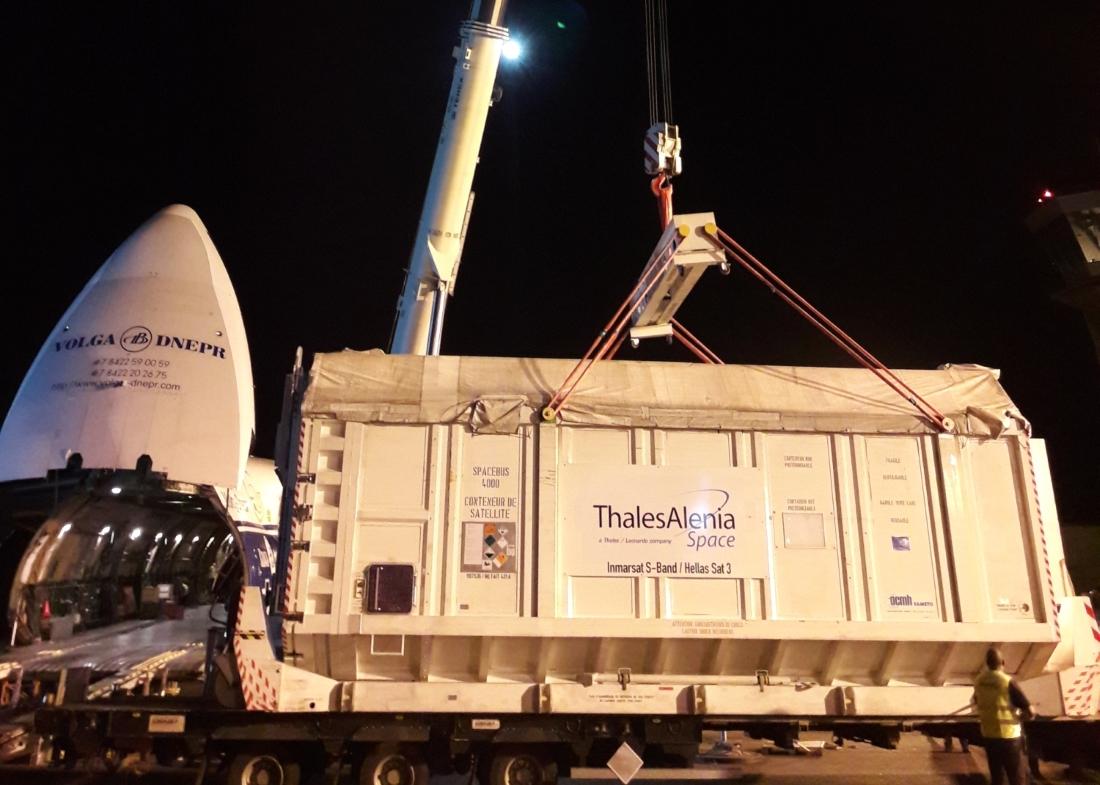 The payload designed for Inmarsat will deliver an S-band service across all 28 member states of the European Union, plus Norway and Switzerland, while the FSS/BSS Hellas Sat payload will cover Europe, Middle East and Southern Africa. The Inmarsat S-band payload will offer enhanced mobile services across Europe through an integrated network, which combines S-band satellite services with a LTE (Long Term Evolution)-based ground network covering operated by Inmarsat's partner Deutsche Telekom. Inmarsat S–band will support Inmarsat's European Aviation Network, an integrated satellite and ground network that combines the best of both worlds and will offer airline passengers robust, high capacity inflight broadband in a small, light-weight solution. The Hellas-Sat 3 payload will deliver DTH (Direct To Home) and Telecom services in Europe, Middle East and South Africa, maintaining and expanding Hellas-Sat's business reach with additional capacities.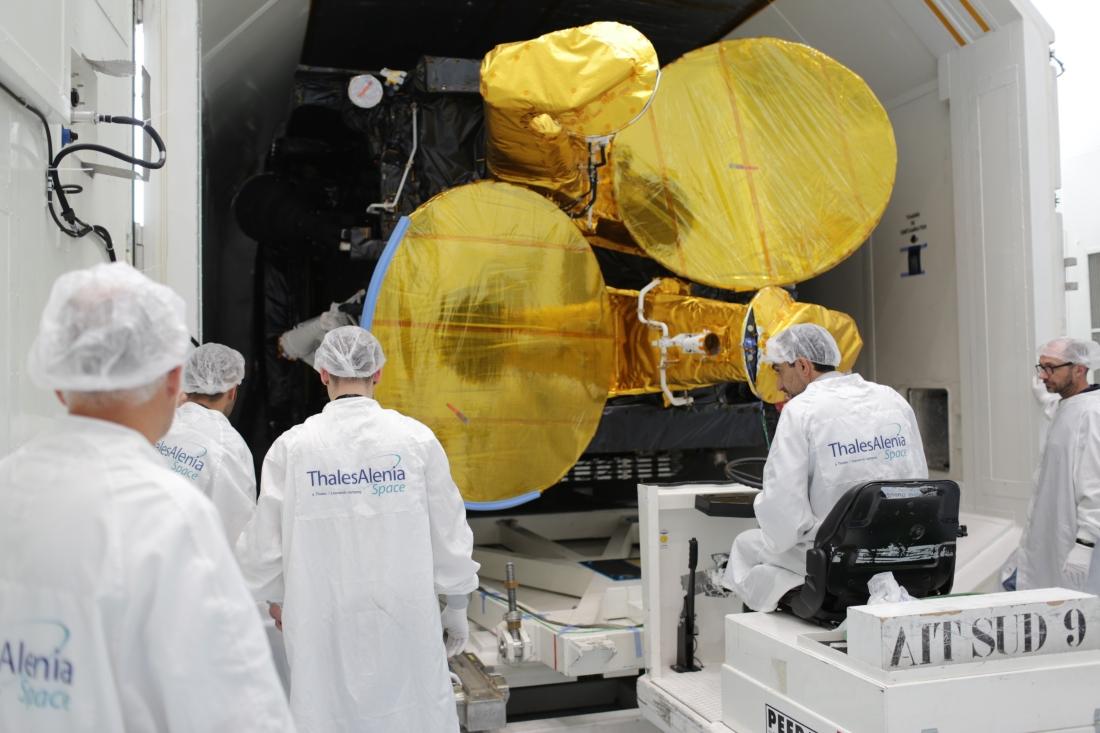 Built on the Spacebus 4000 C4 platform from Thales Alenia Space, "Inmarsat S-band / Hellas Sat 3" will deliver a multi-beam mission in S-band as well as a powerful Ku/Ka-Band mission of 45 Ku and 1 Ka transponders for Hellas-Sat. The satellite will weigh about 5.8 tons at launch and will offer payload power of about 12.7 kW. « Inmarsat S-band / Hellas Sat 3 » will be positioned at 39° East.
"Inmarsat S-band / Hellas Sat 3" is the fourth satellite from Thales Alenia Space to be shipped to the Guiana Space Center in 2017. Inmarsat S-band/ Hellas-Sat 3 will be the 14th satellite built by Thales Alenia Space to be launched since the beginning of the year," said Bertrand Maureau, Vice President, Telecommunications Business Line at Thales Alenia Space.
Photos/artistic view copyrights: ©Thales Alenia Space
About Thales Alenia Space Thales Alenia Space brings over 40 years of experience to the design, integration, testing and operation of innovative space systems for telecommunications, navigation, Earth observation, environmental management, exploration, science and orbital infrastructures. A joint venture between Thales (67%) and Leonardo (33%), Thales Alenia Space also teams up with Telespazio to form the parent companies' "Space Alliance", which offers a complete range of services and solutions. Thales Alenia Space has built up unrivaled expertise in dual (civil-military) missions, constellations, flexible high-throughput payloads, altimetry, meteorology, and high-resolution radar and optical observation. The company capitalizes on its strong legacy, while also making innovation a key to its strategy. By offering a continuous stream of new products and expanding its global footprint, Thales Alenia Space has established its leadership in today's fast-evolving space sector. Thales Alenia Space posted consolidated revenues of about 2.4 billion euros in 2016 and has 7,980 employees in nine countries. www.thalesaleniaspace.com
Thales Alenia Space Press Contacts:
Sandrine Bielecki
Phone: +33 (0)4 92 92 70 94 sandrine.bielecki@thalesaleniaspace.com
Chrystelle Dugimont
Phone: +33 (0)4 92 92 74 06 chrystelle.dugimont@thalesaleniaspace.com
About Inmarsat Inmarsat plc is the leading provider of global mobile satellite communications services. Since 1979, Inmarsat has been providing reliable voice and high-speed data communications to governments, enterprises and other organizations, with a range of services that can be used on land, at sea or in the air. Inmarsat operates around the world, with a presence in the major ports and centres of commerce on every continent. Inmarsat is listed on the London Stock Exchange (ISAT.L). For more information, please visit www.inmarsat.com. The Inmarsat press release newsfeed and corporate updates are on @InmarsatGlobal.