Communiqués de presse
Le satellite de télécommunication Hellas Sat 3 / Inmarsat S European Aviation Network (EAN) a été lancé avec succès
Communiqués de presse
Le satellite de télécommunication Hellas Sat 3 / Inmarsat S European Aviation Network (EAN) a été lancé avec succès
Cannes, June 29, 2017
– Hellas Sat 3 / Inmarsat S EAN telecommunication satellite, has been successfully launched by Arianespace on board an Ariane 5 rocket from Kourou launch pad in French Guiana. This condominium satellite for Inmarsat and Hellas Sat (an Arabsat subsidiary) will provide Mobile Satellite Services (MSS), Fixed Satellite Services (FSS) and Broadcast Satellite Services (BSS). The Inmarsat S EAN payload will deliver communication services in the S-band to support Inmarsat's European Aviation Network, an integrated satellite and ground network that will deliver robust, high capacity inflight broadband for airline passengers across Europe. The Hellas-Sat 3 payload will deliver in-orbit backed up DTH and Telecom services in its designated coverage areas, maintaining and expanding Hellas-Sat business reach with additional capacities and bringing video content in High Definition and Ultra High Definition format to the covered regions. The FSS/BSS coverage zones are Europe, Middle East and Sub Saharan African countries, including a cross trap service between Europe and South Africa.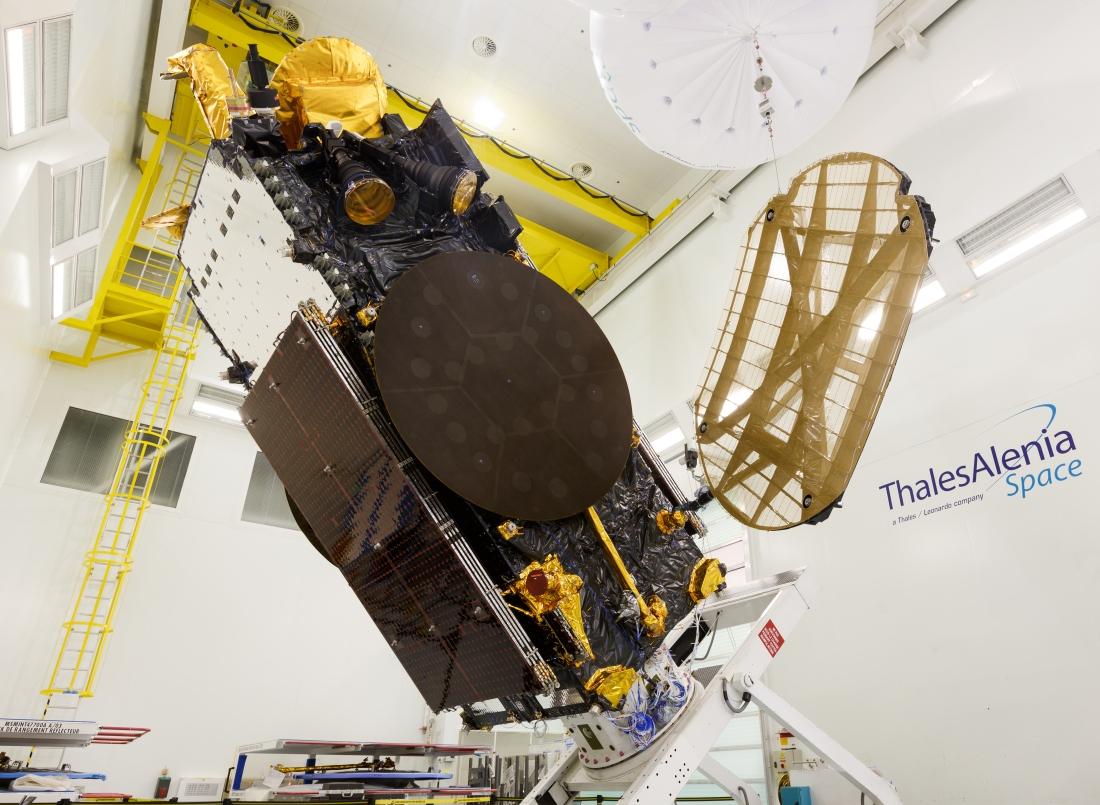 ©Thales Alenia Space/Alban Pichon
"With the launch of Hellas Sat 3 / Inmarsat S EAN, Thales Alenia Space is delighted to support Inmarsat and Hellas Sat expanding their respective service offerings. We are now focused on orbital positioning operations for this satellite, the 24th built by our company to be launched in 2017" said Bertrand Maureau, EVP Telecommunications at Thales Alenia Space. Built on the Spacebus 4000 C4 platform from Thales Alenia Space, Hellas Sat 3 / Inmarsat S EAN will deliver a S-band multi-beam mission for Inmarsat, as well as a powerful Ku/Ka-mission of 47 Ku-transponders (Beginning of Life), 44 Ku-transponders (End of Life) and 1 Ka-transponder for Hellas Sat. Satellite launch mass is around 5.8 tons, with a Payload power around 12.7kW. It will be positioned at 39° East.
Artistic view: ©Thales Alenia Space/Briot
About Thales Alenia Space Thales Alenia Space brings over 40 years of experience to the design, integration, testing and operation of innovative space systems for telecommunications, navigation, Earth observation, environmental management, exploration, science and orbital infrastructures. A joint venture between Thales (67%) and Leonardo (33%), Thales Alenia Space also teams up with Telespazio to form the parent companies' "Space Alliance", which offers a complete range of services and solutions. Thales Alenia Space has built up unrivaled expertise in dual (civil-military) missions, constellations, flexible high-throughput payloads, altimetry, meteorology, and high-resolution radar and optical observation. The company capitalizes on its strong legacy, while also making innovation a key to its strategy. By offering a continuous stream of new products and expanding its global footprint, Thales Alenia Space has established its leadership in today's fast-evolving space sector. Thales Alenia Space posted consolidated revenues of about 2.4 billion euros in 2016 and has 7,980 employees in nine countries. www.thalesaleniaspace.com
Thales Alenia Space Press Contacts:
Sandrine Bielecki
Phone: +33 (0)4 92 92 70 94 sandrine.bielecki@thalesaleniaspace.com
Chrystelle Dugimont
Phone: +33 (0)4 92 92 74 06 chrystelle.dugimont@thalesaleniaspace.com