Cannes, January 4, 2023 – 2022 was a decisive year for the future of space, which is recognized as a growth sector, not only in commercial business, but also thanks to momentum driven by governments and major space agencies stepping up to the crucial challenges of sovereignty, security, connectivity and environmental protection.

The European Space Agency (ESA) ministerial-level council meeting in 2022 approved a budget of €16.9 billion, up 17% versus the amount approved in 2019. Against this backdrop, Thales Alenia Space, the joint company between Thales (67%) and Leonardo (33%), looks back at a year of successes and achievements.
 
Space to Connect: Thales Alenia Space is the world leader in geostationary telecom satellites for the second year in a row, winning six of the ten contracts awarded in 2022 in the global open market.
 
Space INSPIRE © Thales Alenia Space
These successes reflect the recognition by the world's largest operators of Thales Alenia Space's new Space Inspire (INstant SPace In-orbit REconfiguration) product line, which is fully reconfigurable in orbit, with the award of the Intelsat 41 (IS-41) and Intelsat 44 (IS-44), Arabsat-7A, SES-26 and Eutelsat Flexsat satellites.

Thales Alenia Space is pursuing its partnership with Eutelsat by providing the SpaceGate ground connectivity solution for the Eutelsat Konnect VHTS satellite, which will significantly improve the satellite's ground segment performance. Our company is also supplying the Koreasat-6A satellite to KTSAT in South Korea.

Space to Explore: returning astronauts to the Moon on the agenda in 2022
Orion © ESA

Other highlights of the year include the successful launch of NASA's Artemis 1 mission. The Artemis program seeks to establish a sustainable human presence on the Moon. Thales Alenia Space contributed to key technologies for the Orion capsule's European service module, developed under contract for the European Space Agency (ESA). This capsule will be used for crewed missions to the Moon and deep space. In addition, Thales Alenia Space continued development of the HALO, ESPRIT and I-HAB modules for the lunar space station.

The company also signed a study contract with ESA to develop a payload for oxygen extraction from lunar rock. This  contract should demonstrate the in situ oxygen production capacity required by future Moon colonies.

Space to Observe and Protect: sustainable observation for the benefit of citizens

In 2022, Thales Alenia Space signed the second tranche for the CO2M, CRISTAL, CHIME, CIMR and ROSE L missions as part of Copernicus, a European Commission core satellite Earth observation program and a key ESA program in this field.
Space to Travel and Navigate: Thales Alenia Space at the forefront of satellite navigation in Europe

Thales Alenia Space signed a contract with the European Union Agency for the Space Programme (EUSPA) to develop, qualify and deploy the new version of Europe's EGNOS satellite navigation overlay system. Our company also reached a new milestone in the Galileo program, with a new satellite integrated into the Ground Mission Segment (GMS), which will improve positioning services for 3.3 billion users.
 
Space to Secure and Defend: further development of secure telecom system for the Italian Ministry of Defense

Thales Alenia Space and Telespazio signed the second tranche of a contract with the Italian Ministry of Defense for the continued development of the SICRAL 3 secure satellite communications system and its ground segment. Italy's SICRAL secure communications and early warning system comprises two geostationary satellites for strategic and tactical links, which support defense operations  at home and abroad.
 
Twelve key launches flying Thales Alenia Space technologies in 2022 for iconic missions, primarily concerning connectivity and the climate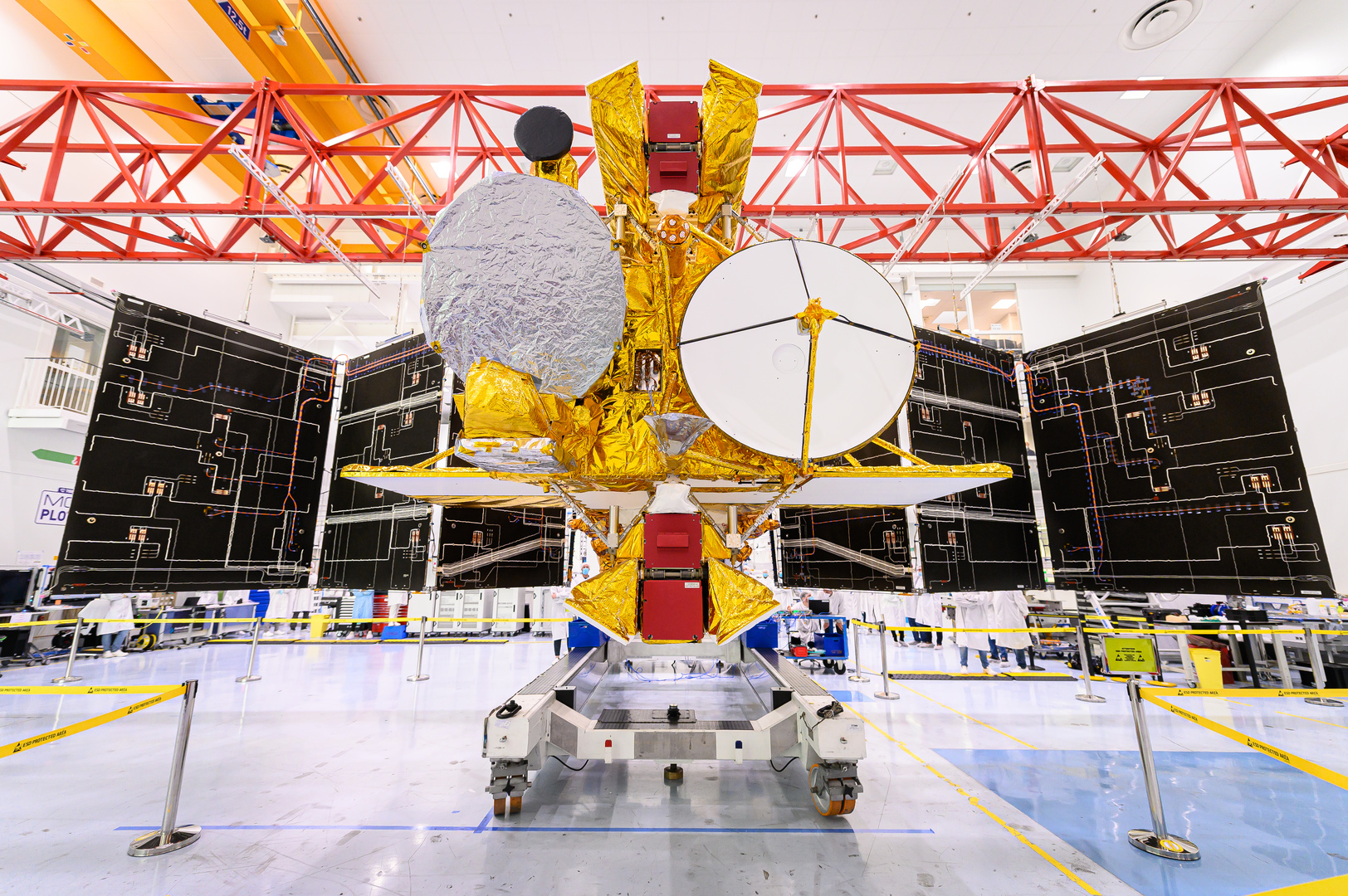 SWOT © Thales Alenia Space/Imag[IN]
 
Six communications satellites: Omnispace Spark-1 and Spark-2, SES-22, Nilesat 301, Eutelsat Konnect VHTS and Eutelsat 10B.
Three observation satellites: second COSMO-SkyMed Second Generation satellite, MTG-I1 (first imaging satellite of Meteosat Third Generation), and SWOT (Surface Water and Ocean Topography).
Three exploration spacecraft: two Cygnus resupply vessels for the International Space Station (ISS) and the Orion capsule, for which Thales Alenia Space is a key supplier on the European Service Module.  

Commercial development of low-Earth orbit: study contract for Skimsat and alliance with Space Cargo Unlimited to develop the REV1 vehicle
REV1 © Space Cargo Unlimited

Thales Alenia Space and QinetiQ are paving the way for multimission nanosatellites in very low-Earth orbit by signing a major study contract with ESA for Skimsat, a disruptive concept aimed at reducing the cost of Earth observation satellites and a further step forward for New Space initiatives.

Thales Alenia Space and Space Cargo Unlimited announced the signing of the first phase contract for the design and manufacture of REV1, the first space factory of this type. As prime contractor, our company is responsible for the design, engineering and development of REV1. Space Cargo Unlimited will be the owner and commercial operator of the vehicle.
 
Sustainable space: Thales Alenia Space pioneers On-Orbit Servicing and leads consortium for ASCEND feasibility study

Thales Alenia Space and partners were selected by the European Commission to lead the EROSS IOD (European Robotic Orbital Support Services In-Orbit Demonstrator) program, or On-Orbit Servicing. This program aims to support sustainability in space by enabling satellite life extension and performance enhancement to reduce space debris.

At a time when digital technology's growing environmental footprint is becoming a major challenge, Thales Alenia Space was chosen by the European Commission to lead the ASCEND feasibility study for in-orbit datacenters. This project could help meet Europe's Green Deal goal of carbon neutrality by 2050 and would also be an unprecedented development in the European space and digital ecosystem.
 
Thales Alenia Space signs contract with ArianeGroup to produce the range safeguard system for the Ariane 6 launcher

The purpose of the range safeguard system is to neutralize the launcher if an errant trajectory endangered people or property. The electronics at the heart of this system are wholly designed and produced by Thales Alenia Space in Belgium.
 
Thales Alenia Space, a seedbed of talent

In 2001, Thales Alenia Space's Cannes facility welcomed future astronaut Thomas Pesquet for an internship as he was finishing his studies. Today, Anthea Comellini, also an engineer at Thales Alenia Space, has been chosen by ESA as a reserve astronaut from among 22,500 candidates. Thales Alenia Space clearly inspires young talent to reach for the stars!
ABOUT THALES ALENIA SPACE
Drawing on over 40 years of experience and a unique combination of skills, expertise and cultures, Thales Alenia Space delivers cost-effective solutions for telecommunications, navigation, Earth observation, environmental management, exploration, science and orbital infrastructures. Governments and private industry alike count on Thales Alenia Space to design satellite-based systems that provide anytime, anywhere connections and positioning, monitor our planet, enhance management of its resources, and explore our Solar System and beyond. Thales Alenia Space sees space as a new horizon, helping to build a better, more sustainable life on Earth. A joint venture between Thales (67%) and Leonardo (33%), Thales Alenia Space also teams up with Telespazio to form the parent companies' Space Alliance, which offers a complete range of services. Thales Alenia Space posted consolidated revenues of approximately 2.15 billion euros in 2021 and has around 8,000 employees in 10 countries with 17 sites in Europe and a plant in the US.

THALES ALENIA SPACE – PRESS CONTACTS
Sandrine Bielecki    
Tel: +33 (0)4 92 92 70 94    
sandrine.bielecki@thalesaleniaspace.com
Catherine des Arcis    
Tel.: +33 (0)6 78 64 63 97    
catherine.des-arcis@thalesaleniaspace.com