Press releases
Thales Alenia Space to host the signature of a memorandum of understanding on an European education partnership agreement
Press releases
Thales Alenia Space to host the signature of a memorandum of understanding on an European education partnership agreement
The Space industry: an added value in the major European universities courses
Le Bourget, June 21, 2017
– A group of major European space manufacturing industries* and universities** have signed at Le Bourget on the Space Alliance Chalet a memorandum of understanding on an education partnership agreement aiming - through their joint and coordinated efforts - at organizing for multi-nationality teams of top-level students a structured transition between their educational path and their entry in the industry world. This is intended to take place by means of dedicated projects to be developed by teams of students coming from universities in different countries and working on industry's selected priorities, teams being selected by industry via competition.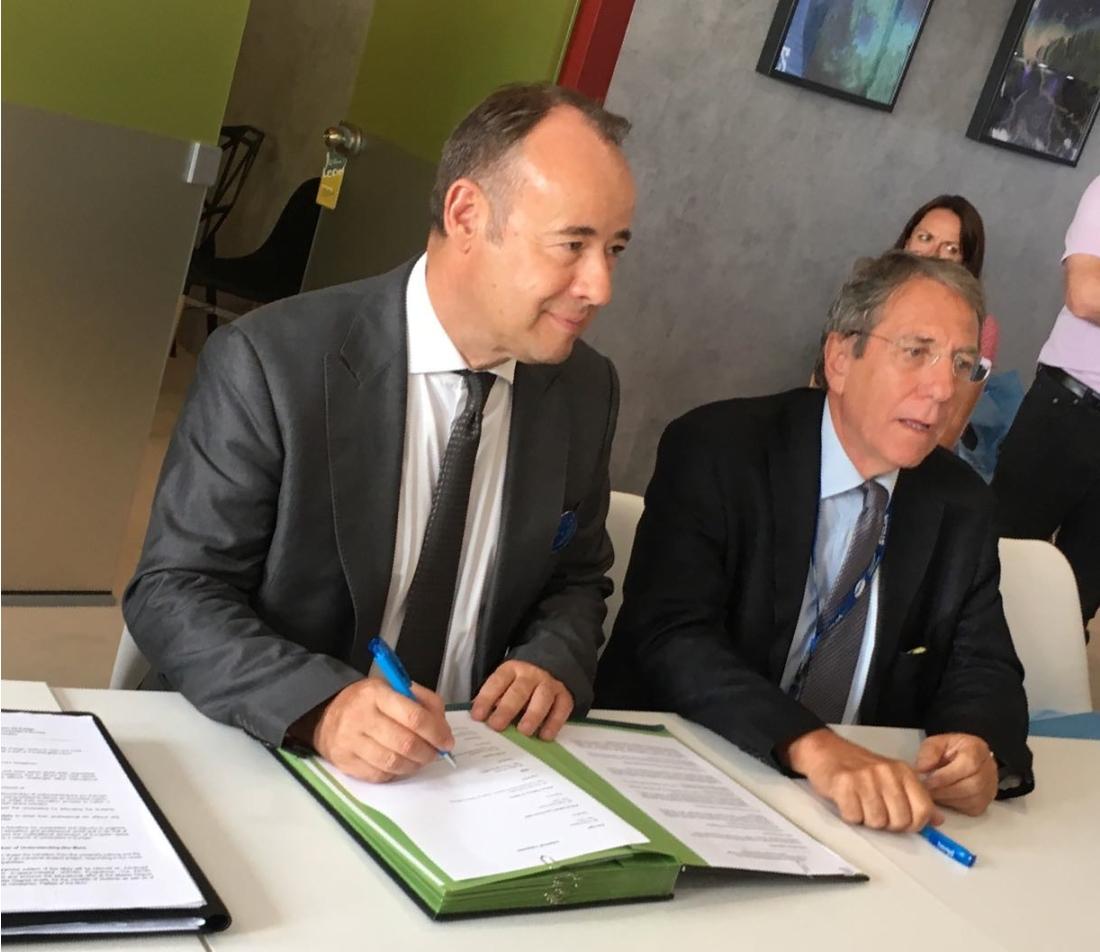 This initiative, aiming at educating more specifically students by means of a longer industrial project phase has been given the name of: "Advanced Student Team Research in space Industry" (ASTRI), and is intended to materialize into ad hoc specific agreements involving at a time at least one industry and a team of at least five students coming from universities in at least three different countries.
Each ASTRI Program is intended to devote globally eighteen months to carry out a project in industry with a first phase lasting six months that could be part of the thesis final project to accomplish a standard master, while a second phase, lasting the remaining twelve (12) months, would have to be carried out at the premises of one of the industrial Parties.
The MoU enters into force today and will remain valid for four years. It will be implemented via a first cycle of projects from early 2018 to mid-2019, with the corresponding diplomas, namely "First Distinguished Certificate of Excellence", being delivered in mid-2019. The MoU is intended to open to new Parties (industry and/or universities) at the end of each academic cycle.
*Airbus Defence & Space, Airbus Safran Launchers SAS, Avio SpA, OHB, RUAG Space, Telespazio, Thales Alenia Space ** CNAM in Paris, EPFL in Lausanne, KTH in Stockholm, Sapienza University in Roma, Université de Montpellier, UPM in Madrid, Von Karman Institute in Brussels
Photo: from left to right
Jean-Loïc Galle, President and Chief Executive Officer of Thales Alenia Space
Marcello Onofri, Director of "Centro di Ricerca Aerospaziale della Sapienza-CRAS"
About Thales Alenia Space Thales Alenia Space brings over 40 years of experience to the design, integration, testing and operation of innovative space systems for telecommunications, navigation, Earth observation, environmental management, exploration, science and orbital infrastructures. A joint venture between Thales (67%) and Leonardo (33%), Thales Alenia Space also teams up with Telespazio to form the parent companies' "Space Alliance", which offers a complete range of services and solutions. Thales Alenia Space has built up unrivaled expertise in dual (civil-military) missions, constellations, flexible high-throughput payloads, altimetry, meteorology, and high-resolution radar and optical observation. The company capitalizes on its strong legacy, while also making innovation a key to its strategy. By offering a continuous stream of new products and expanding its global footprint, Thales Alenia Space has established its leadership in today's fast-evolving space sector. Thales Alenia Space posted consolidated revenues of about 2.4 billion euros in 2016 and has 7,980 employees in nine countries. www.thalesaleniaspace.com
Thales Alenia Space Press Contacts:
Sandrine Bielecki
Phone: +33 (0)4 92 92 70 94 sandrine.bielecki@thalesaleniaspace.com
Chrystelle Dugimont
Phone: +33 (0)4 92 92 74 06 chrystelle.dugimont@thalesaleniaspace.com