In the Spotlight
Thales Alenia Space at IDEX 2019
In the Spotlight
Thales Alenia Space at IDEX 2019
Thales Alenia Space will be at IDEX 2019 from February 17 to 21 in Abu Dhabi, alongside parent company Thales. IDEX is the leading international defense exhibition and conference in the Middle East and North Africa region, showcasing the latest technologies for land, sea, air and space applications. Thales Alenia Space will present its latest high-performance optical and radar observation systems and showcase its expertise in satellite communications systems for both the civil sector [TV, telephony, broadband] and the military sector [secure communications]. The StratobusTM stratospheric airship will also be in the spotlight at IDEX 2019.
A complete range of optical and radar observation systems
Intelligence, maritime surveillance, mapping, crisis management… Space-based systems give users, especially governments, access to a wide range of surveillance and monitoring applications to guarantee their security and sovereignty. A number of countries have indicated a keen interest in acquiring space systems capable of independently supplying them with high-resolution intelligence images. Thales Alenia Space, the only European company offering both optical and radar very-high-resolution instruments, draws on over 30 years of experience to propose a complete range of observation systems designed to meet market expectations.
In December 2018, Thales Alenia Space won two contracts with South Korea against an international field of competitors, from KAI (Korean Aerospace Industries) and HSC (Hanwha Systems Corporation). It will build four Earth observation satellites with synthetic aperture radars (SAR) as part of the SmallSat Korea "425" project. This system of high-resolution satellites will be used by Korean authorities for intelligence and surveillance applications, including monitoring of zones of specific interest.
Satellite communications
Very-high-speed connectivity and bridging the digital divide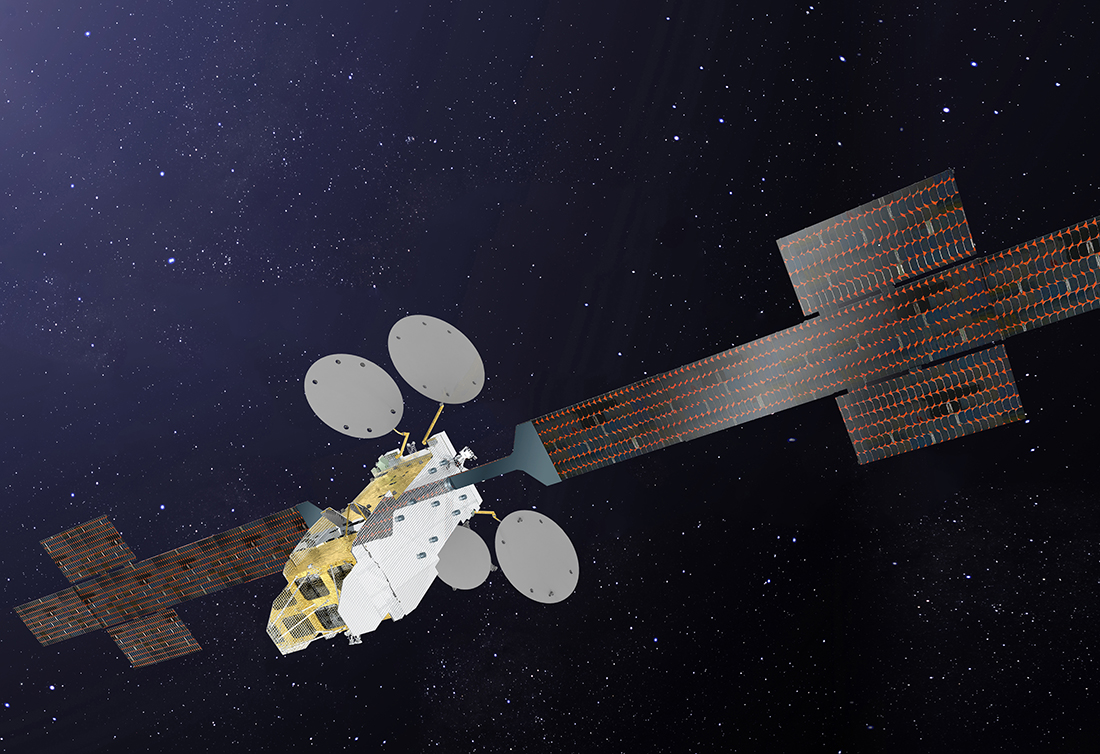 Because we want to be connected anywhere and at any time; because we want to take advantage at any given moment of increasingly rich content; because no region of the world, especially isolated areas, should be left on the wrong side of the digital divide; because space should deliver solutions to improve people's lives… Satellite systems, especially the latest digital models, are clearly the best way to address the requirements of the fast-changing and highly competitive telecom market. Furthermore, we are seeing the emergence of new markets, especially aeronautical and maritime, driving a boom in connectivity requirements. The VHTS (very high throughput satellite) solution spearheaded by Thales Alenia Space is digital, and therefore offers tremendous agility. This type of system was first seen in military telecom applications, and then more recently transitioned to the commercial market. Today, it's naturally the preferred solution for operators.
Digital VHTS systems combine high capacity, agility and competitiveness. Because of their flexibility, VHTS solutions allow operators to adapt the distribution of throughput across their coverage zone at any given moment. In other words, this type of payload addresses the changing needs of operators throughout a typical satcom mission.
Military or dual communications systems
Thales Alenia Space will be showcasing its expertise in military and dual (civil/military) communications satellites. The latest examples include Syracuse IV, built for French defense procurement agency DGA, or the Brazilian dual telecommunications system SGDC.
Thales Alenia Space is responsible for the Syracuse IV program contract, which comprises two military communications satellites for French armed forces. Designed to replace the Syracuse 3A and Syracuse 3B satellites, launched in 2005 and 2006, the two Syracuse IV satellites will start operational service as from 2021.
Stratobus
Also in the spotlight at Abu Dhabi, StratobusTM is an autonomous, multi-mission stratospheric airship that offers a perfect fit with satellite systems. Because it provides space-like capabilities without requiring a rocket launcher, StratobusTM marks a technological breakthrough in this sector. It is designed to meet the needs of security and defense forces, for instance by offering constant surveillance of a predefined regional coverage zone.
Photos copyrights: ©Thales Alenia Space/Briot & ©Thales Alenia Space/Master Image Programmes