In the Spotlight
Thales Alenia Space @ GSTC 2019
In the Spotlight
Thales Alenia Space @ GSTC 2019
A stakeholder in Singapore's dynamic performance, Thales Alenia Space will be at the 12th Global Space and Technology Convention (GSTC) on February 14 and 15. The European satellite manufacturer will showcase its latest technologies for very high throughput satellite (VHTS) communications systems, along with its complete range of optical and radar-based spaceborne observation systems. Building on its long experience in low and medium Earth orbit telecom constellations [Thales Alenia Space has built 125 satellites as prime contractor for three constellations], the company will also show visitors how it had already geared up for the transition to the "new space" environment.
A complete range of optical and radar observation systems
Intelligence, maritime surveillance, mapping, crisis management… Space-based systems give users, especially governments, access to a wide range of surveillance and monitoring applications to guarantee their security and sovereignty. A number of countries have indicated a keen interest in acquiring space systems capable of independently supplying them with intelligence images. Thales Alenia Space, the only European company offering both optical and radar very-high-resolution instruments, draws on over 30 years of experience to propose a complete range of observation systems designed to meet market expectations.
In December 2018, Thales Alenia Space won two contracts with South Korea against an international field of competitors, from KAI (Korean Aerospace Industries) and HSC (Hanwha Systems Corporation). It will build four Earth Observation satellites with synthetic aperture radars (SAR) as part of the SmallSat Korea "425" project. This system of high-resolution satellites will be used by Korean authorities for intelligence and surveillance applications, including monitoring of zones of specific interest.
VHTS for all!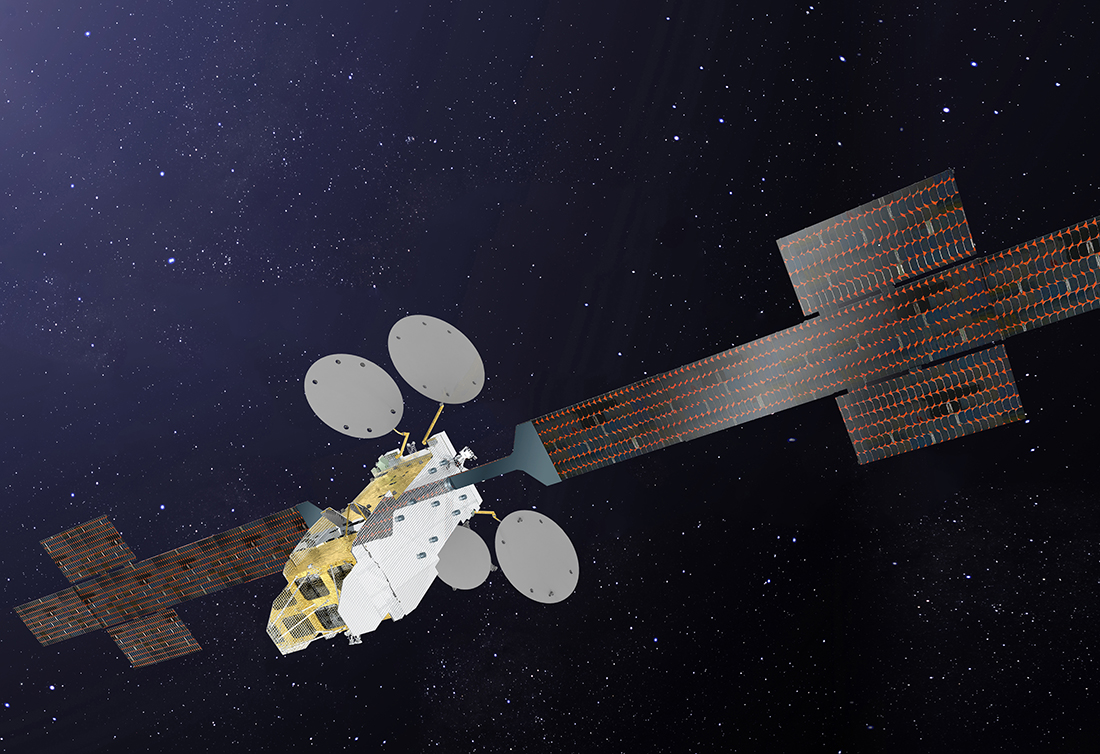 Because we want to be connected anywhere and at any time; because we want to take advantage at any given moment of increasingly rich content; because no region of the world, especially isolated areas, should be left on the wrong side of the digital divide; because space should deliver solutions to improve people's lives… Satellite systems, especially the latest digital models, are indubitably the most appropriate solution to address the requirements of the fast-changing and highly competitive telecom market. Furthermore, we are seeing the emergence of new markets, especially aeronautical and maritime, driving a boom in connectivity requirements. The VHTS solution spearheaded by Thales Alenia Space is digital, and therefore offers tremendous agility. This type of system was first seen in military telecom applications, and then more recently transitioned to the commercial market. Today, it's naturally the preferred solution for operators. Digital VHTS systems combine high capacity, agility and competitiveness. Because of their flexibility, VHTS solutions allow operators to adapt the distribution of throughput across their coverage zone at any given moment. In other words, this type of payload addresses the changing needs of operators throughout a typical satcom mission.
Timely solutions for New Space
NorthStar, BlackSky, KINEIS… In recent years Thales Alenia Space has offered innovative yet competitive proposals for a wide range of activities.
For instance, Thales Alenia Space and the American startup Spaceflight Industries created Leostella LCC, an equally-owned joint venture fully reflecting the needs of the New Space environment. Their aim is to deploy the first constellation featuring short revisit times, comprising 60 optical high-resolution satellites. The first two satellites are already operating in orbit.
Thales Alenia Space will also build Kineis, a constellation of 20 nano-satellites dedicated to The Internet of Things, produced in conjunction with Nexeya for CLS.
The Space Alliance (between Thales Alenia Space and Telespazio) recently acquired a stake in NorthStar Earth & Space Inc, an information services company from Montréal that is developing the world's most sophisticated system for the surveillance of our environment and near space. Through this investment, the Space Alliance will provide NorthStar with design, development and production solutions for an innovative constellation of 40 satellites.
From its complete range of optical and radar observation systems, to VHTS telecom systems and New Space solutions, Thales Alenia Space covers all the bases at the GSTC space convention in Singapore.
Copyrights: ©Thales Alenia Space/Briot except Blacksky: © SpaceFlight Industries