In the Spotlight
Happy #Earthday!
In the Spotlight
Happy #Earthday!
As the climate continues to go off track, our planet looks increasingly ill. Some animal species are becoming extinct and the plant population is withering. At the same time, polar ice is melting at an unprecedented rate and we may well see a massive rise in sea levels in the decades ahead, while we have set high temperature records for the last four years running. It is more important than ever to work together on solutions to save our planet. The best place to understand the long-term trends affecting our planet is not on Earth, but high above it!
Keeping an eye on Earth
Thales Alenia Space's Earth observation satellites monitor our changing environment day after day. Our radar and optical instruments allow satellites to constantly survey our planet from their privileged position in orbit. These satellite images have in fact long provided invaluable information to scientists, first responders in case of disasters and local communities.
How does weather affect our lives?
MTG ©Thales Alenia Space/Briot
It's very nice knowing what the weather will bring tomorrow, and extremely useful in many cases. But when it comes to forecasting extreme events such as typhoons, hurricanes, floods, etc., satellites really come into their own, and play a key role in saving lives.
Thanks to Meteosat weather satellites, meteorologists have enjoyed a continuous supply of reliable data for their immediate and short-range weather forecasts for more than forty years.
MSG-4 ©Thales Alenia Space/Imag[IN]
Meteosat Second Generation (MSG) satellites cover Europe, the North Atlantic and Africa, sending updated images every 15 minutes, versus 30 minutes on first-generation satellites. With MSG, meteorologists benefit from higher-quality images because of a significant increase in the number of observation channels and better radiometric performance, coupled with shorter revisit times. This allows them to detect and monitor rapidly developing events such as storms, which directly impact both citizens and economic sectors such as agriculture, fishing and transportation, especially shipping. Thales Alenia Space is now developing Meteosat Third Generation (MTG), which will update images every ten minutes to make weather forecasts more reliable than ever. Some MTG satellites are also fitted with atmospheric sounders to complement the images acquired. All European meteorological satellites were built by Thales Alenia Space as prime contractor.
Copernicus and the dance of the Sentinels
Copernicus © ESA
As millions of people in Mozambique, Malawi and Zimbabwe struggle to cope with the aftermath of what could be the southern hemisphere's worst storm (Hurricane Idai), Sentinel-1 is one of the satellites being used to map flooded areas and help relief efforts. Authorities count on this information to organize the required rescue operations.
Sentinel-1 © ESA
The Sentinel series of spacecraft is being developed on behalf of the European Space Agency (ESA) within the scope of the European Union's Copernicus program. They are a key to Europe's environmental monitoring efforts. There are six Sentinel families of satellites or instruments: Sentinel-1 is designed to provide continuity for the radar data collected by ERS and Envisat; Sentinel-2 and Sentinel-3 are dedicated to monitoring land masses and oceans. The Sentinel-4 and -5 instruments are designed for meteorology and climatology missions. Sentinel-6 will provide operational continuity for Jason altimetry missions. Thales Alenia Space is prime contractor for the Sentinel-1 and -3 families (4 satellites each), is in charge of the image ground segment for Sentinel-2, and makes the imaging spectrometer carried by Sentinel-5P as well as the Poseidon-4 radar altimeter for the Jason-CS/Sentinel-6 mission.
What about the ISS?
© ESA/NASA
You can sometimes see a small white luminous point in the sky, which looks to the human eye like a star. But in fact it's the International Space Station (ISS), circling the Earth at an altitude of 400 kilometers, and carrying astronauts who conduct experiments under zero-gravity conditions. These experiments will help improve life on Earth, of course, but they are also being used to gear up for future manned missions to other planets, especially our neighbor, Mars. Their experiments cover a wide range of activities, including studies on water purification and the removal of gaseous contaminants in the air, the growth of plants in controlled environments, and the stabilization and storage of non-recyclable waste. Working with space agencies, industry and academia, our spaceborne scientists have also carried out studies on how muscular activity changes over time and aging in orbit, preventing the bacteriological contamination of materials, fluid mechanics, robotics and much more. All of these experiments are designed to benefit humans.
ISS ©Thales Alenia Space/Master Image Programmes
The International Space Station (ISS) holds a special place in the hearts of Thales Alenia Space engineers based in Turin, Italy. Thales Alenia Space has supplied fully half of the pressurized volume on the ISS (40% of the entire station), including Nodes 2 and 3, the Multipurpose Module (MMP), Multipurpose Logistics Modules (MPLM), Cupola, Columbus lab structure, and the structure for the Bishop commercial airlock from NanoRacks. Thales Alenia Space also supplied Integrated Cargo Carriers for ATV resupply vessels as well as Pressurized Cargo Modules (PCM) for Cygnus. Looking beyond the ISS, Thales Alenia Space is gearing up for lunar missions, in particular with the LOP-G (Lunar Orbital Platform Gateway), and is carrying out design studies for NASA (as part of STEP 2) and ESA. Furthermore, following the success of the IXV atmospheric reentry demonstrator, Thales Alenia Space is developing Space Rider, Europe's new-generation, low-orbit, reusable space transport system.
Bridging the digital divide
The increasing role of constellations
O3b ©Thales Alenia Space
Since the beginning of the year, two telecom satellite constellations built by Thales Alenia Space as prime contractor have been completely deployed. With a total of 125 satellites under its responsibility for three different constellations (Iridium NEXT, O3B and Globalstar), Thales Alenia Space is the global benchmark for low and medium Earth orbit (LEO and MEO) constellations of this type. It also built 70% of the first-generation Globalstar 1 system.
Iridium® NEXT ©Thales Alenia Space/Master Image Programmes
Iridium® NEXT is the world's most sophisticated communications system. Fully operational since February 2019, it comprises 66 interconnected satellites at an altitude of 780 kilometers. A global network providing unrivaled capabilities for communications on the move (individuals, land vehicles, airplanes and ships), Iridium NEXT offers global coverage including oceans and the poles. It is fully independent from ground infrastructures, thanks to intersatellite links, to guarantee secure communications, protected against piracy and intrusion. In the case of hurricanes, tsunamis and other natural disasters, the constellation can provide significant help in keeping vital communications links open. In the fall of 2017, for instance, the constellation provided critical communications after the terrestrial network in Puerto Rico was largely destroyed by Hurricane Maria.
High-speed connections in Europe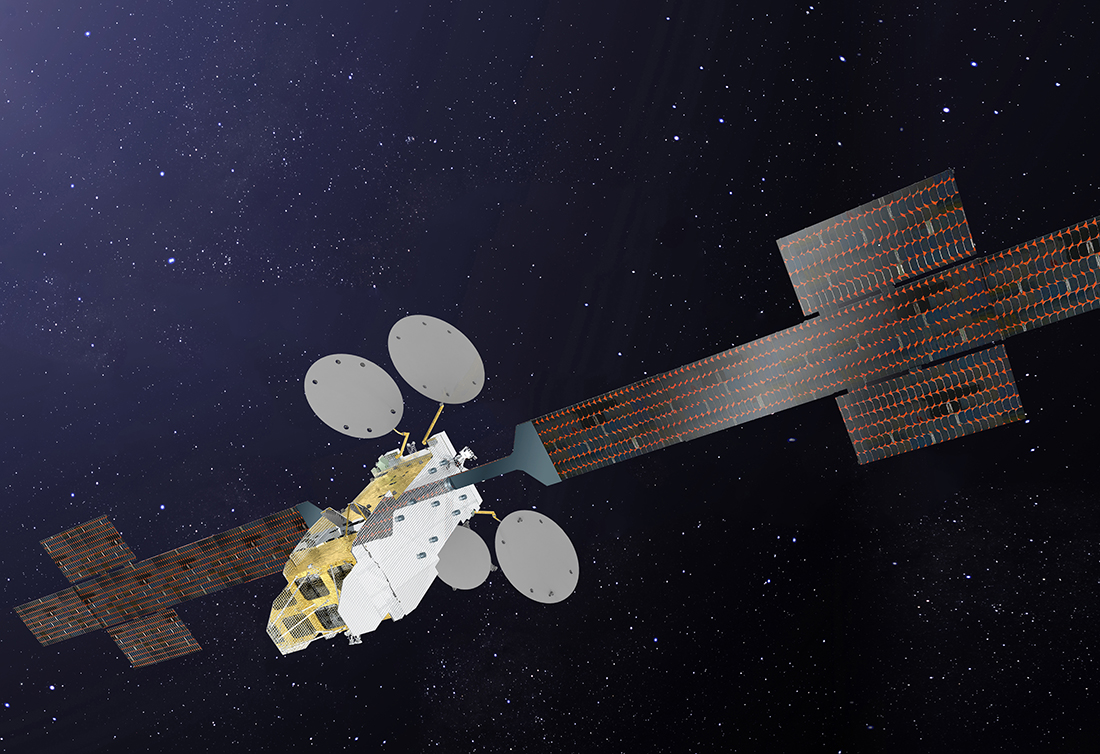 KONNECT VHTS ©Thales Alenia Space/Briot
Thanks to Eutelsat's KONNECT very high throughput satellite (VHTS) system, people throughout Europe, even in isolated areas, will enjoy high-speed Internet. VHTS systems work in conjunction with terrestrial communications networks to help bridge the digital divide.
Bangladesh
Bangabandhu Satellite-1 ©Thales Alenia Space/Imag[IN]
Bangladesh's Bangabandhu Satellite-1 is designed to reduce the digital divide in this country, spanning both urban and rural areas. The latter will really be able to enter the digital age for the first time. Reflecting the country's aspirations and growing skills in space technology, the satellite, successfully launched in May 2018, is driving the economic development of Bangladesh and creating jobs. It will help improve a number of sectors, including defense, telemedicine, online teaching and research, videoconferencing, etc. Thales Alenia Space is proud of having built this satellite, which will help reduce the country's digital gap, while also spurring its economic growth.
Space for life
WE BELIEVE IN SPACE AS HUMANKIND'S NEW HORIZON TO BUILD A BETTER, SUSTAINABLE LIFE ON EARTH
In Space, governments, institutions and companies rely on Thales Alenia Space to design, operate and deliver satellite-based systems that help them position and connect anyone or anything, everywhere, help observe our planet, help optimize the use of our planet's – and our solar system's – resources.