Press releases
Thales Alenia Space received the Rotary NASA Stellar Award in the frame of the Cygnus program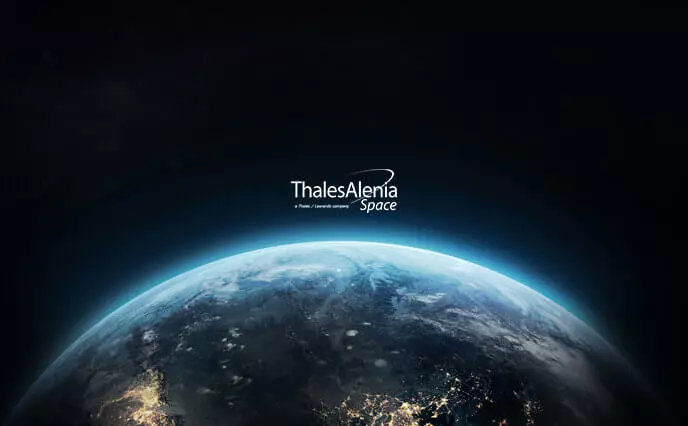 Press releases
Thales Alenia Space received the Rotary NASA Stellar Award in the frame of the Cygnus program
The recognition of expertise, experience and innovation as part as a company strategy looking towards the future
Cannes, May 31, 2016 – Thales Alenia Space, joint venture between Thales (67%) and Leonardo-Finmeccanica (33%), was honored by the Rotary National Award for Space Achievement (RNASA) Foundation with the Stellar Award, for having helped - thanks to its advanced technical-engineering skills – in designing and developing a rapid and innovative solution for reinstatement of the resupply flights to the International Space Station following the mishap of the Antares rocket in October 2014.
The well-deserved, as well as sought after, award was given by RNASA to a cohesive, team made up of individuals from three different companies, (Orbital ATK, United Launch Alliance (ULA) and Thales Alenia Space), coming together with innovative solutions to achieve what most in the space launch industry thought to be impossible.
Immediately following the loss of the Orb-3 Cygnus mission to the International Space Station (ISS) in late 2014, Orbital ATK began efforts to achieve a return-to-flight as quickly as possible and to also increase cargo delivery capabilities to satisfy the Commercial Resupply Services (CRS) contract commitment to NASA.
Thales Alenia Space team worked closely with Orbital ATK to develop improved cargo packing within the existing Pressurized Cargo Modules (PCM), to take advantage of the increased lift capabilities of the Atlas vehicle. As a result, Thales Alenia Space developed the ability to pack more than 3,500 kg of cargo into a current-production PCM, almost a 30% increase in capability.
This PCM, successfully launched from Cape Canaveral Air Force Station on an Atlas V rocket, accommodated 3,508 kg (7,745 pounds) of cargo, including crew supplies, spare parts, and science equipment. The new configuration incorporates a number of upgrades as compared to the standard PCM utilized prior to this mission. These include a lighter and more efficient solution for storing and constraining the cargo inside the module, allowing for an increase in the mass and volume of cargo amount able to be transported to the ISS. In addition the new design confirmed the ability to accommodate bags with both irregular shape and stiffness.
The Cygnus PCM confirms the capability of satisfying also "last minute" mission needs, by maintaining the core structure and adapting the cargo housing solution.
The PCMs are designed and developed under Orbital ATK's CRS contract with NASA, which provides cargo transportation services to and from the ISS.
The CygnusTM spacecraft comprises a Service Module (SM) built by Orbital ATK, and a Pressurized Cargo Module (PCM) developed by Thales Alenia Space. Building on 40 years of experience in space infrastructures and transportation systems, the Cygnus PCM developed by Thales Alenia Space calls on the company's skills and expertise developed through previous programs for the International Space Station, such as the MPLM (Multipurpose Logistics Module), built by the company on behalf of the Italian space agency for NASA, and the ATV (Automated Transfer Vehicle) Cargo Carrier, built by Thales Alenia Space for the European Space Agency (ESA).
About Thales Alenia Space
Thales Alenia Space, a joint venture between Thales (67%) and Finmeccanica (33%), is a key European player in space telecommunications, navigation, Earth observation, exploration and orbital infrastructures. Thales Alenia Space and Telespazio form the two parent companies' "Space Alliance", which offers a complete range of services and solutions. Because of its unrivaled expertise in dual (civil/military) missions, constellations, flexible payloads, altimetry, meteorology and high-resolution optical and radar instruments, Thales Alenia Space is the natural partner to countries that want to expand their space program. The company posted consolidated revenues of 2.1 billion euros in 2015, and has 7,500 employees in eight countries. www.thalesaleniaspace.com
Thales Alenia Space Press Contacts
Sandrine Bielecki
Tel: +33 (0)4 92 92 70 94
sandrine.bielecki@thalesaleniaspace.com
Chrystelle Dugimont
Tel: +33 (0)4 92 92 74 06
chrystelle.dugimont@thalesaleniaspace.com
About Orbital ATK
Orbital ATK is a global leader in aerospace and defense technologies. The company designs, builds and delivers space, defense and aviation systems for customers around the world, both as a prime contractor and merchant supplier. Its main products include launch vehicles and related propulsion systems; missile products, subsystems and defense electronics; precision weapons, armament systems and ammunition; satellites and associated space components and services; and advanced aerospace structures. Headquartered in Dulles, Virginia, Orbital ATK employs more than 12,000 people in 18 states across the U.S. and in several international locations. For more information, visit www.orbitalatk.com