Press releases
Pierre Lipsky named Director of Thales Alenia Space's Cannes plant
Press releases
Pierre Lipsky named Director of Thales Alenia Space's Cannes plant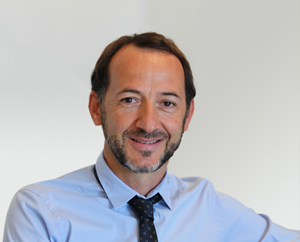 Cannes, August 30, 2016 – Pierre Lipsky, 47, has been named Director of Thales Alenia Space's Cannes plant. He succeeds Jean-Michel Capelli.
A 1993 graduate of the ENSICA/ENIT engineering school, Pierre Lipsky started working at the Cannes plant in 1994 as assembly-integration engineer on various telecom satellite projects.
He then held various operational and managerial positions in the satellite integration unit. In 2007 he was named director of the AIT (Assembly, Integration and Testing) center for optical payloads and satellites.
In 2014 he moved to the Telecommunications Business Line as head of operations, a position he retains today along with his new position as plant Director.
About Thales Alenia Space:
Thales Alenia Space, a joint venture between Thales (67%) and Leonardo-Finmeccanica (33%), is a key European player in space telecommunications, navigation, Earth observation, exploration and orbital infrastructures. Thales Alenia Space and Telespazio form the two parent companies' "Space Alliance", which offers a complete range of services and solutions. Because of its unrivaled expertise in dual (civil/military) missions, constellations, flexible payloads, altimetry, meteorology and high-resolution optical and radar instruments, Thales Alenia Space is the natural partner to countries that want to expand their space program. The company posted consolidated revenues in excess of 2.1 billion euros in 2015, and has 7,500 employees in 8 countries. www.thalesaleniaspace.com
Thales Alenia Space Press Contacts:
Sandrine Bielecki
Tel: +33 (0)4 92 92 70 94 sandrine.bielecki@thalesaleniaspace.com
Chrystelle Dugimont
Tel: +33 (0)4 92 92 74 06 chrystelle.dugimont@thalesaleniaspace.com