Press releases
ExoMars 2016 spacecraft built by Thales Alenia Space ready for shipment to Baikonur launch base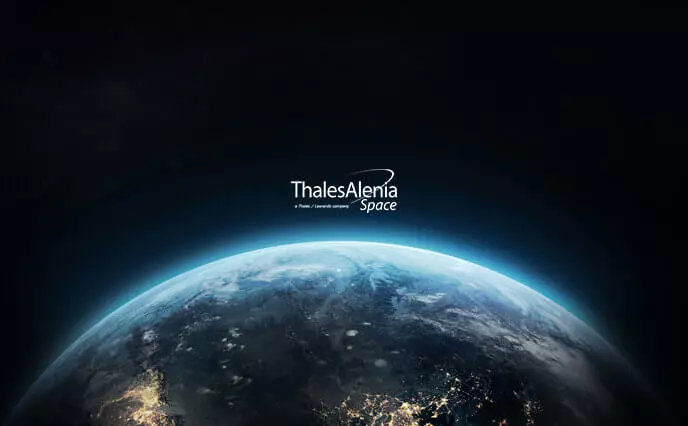 Press releases
ExoMars 2016 spacecraft built by Thales Alenia Space ready for shipment to Baikonur launch base
ExoMars 2016 spacecraft built by Thales Alenia Space ready for shipment to Baikonur launch base
First step in an extraordinary voyage
Cannes, November 25, 2015 –
Thales Alenia Space announced today that the ExoMars 2016 spacecraft is about to leave the clean rooms at its plant in Cannes, where it is completing integration and testing, for shipment to the launch base in Baikonur, Kazakhstan. The launch campaign will then start, including propellant filling, final functional tests and mating with the launcher, for a launch scheduled in March 2016. ExoMars is a joint endeavor between the European Space Agency (ESA) and the Russian Space Agency (Roscosmos), with the Italian Space Agency (ASI) playing a strong role as major contributor within the ESA State Members. ASI has developed in particular a laser micro-reflector called INRRI (INstrument for landing-Roving laser Retroreflector Investigations) together with National Institute for Nuclear Physics (INFN). Exomars program is completed by a European industrial consortium led by Thales Alenia Space Italia and involving almost 134 space companies from ESA State members. ExoMars is the first mission in ESA's Aurora exploration program, comprising two separate missions. The first mission, in 2016, will study Mars' atmosphere and demonstrate the feasibility of several critical technologies for atmospheric entry, descent and landing. Mastering these key phases is a prerequisite for any future human exploration of Mars. The 2016 mission will also provide a communications relay to transmit data between the Earth and Martian rovers used on subsequent missions. The second mission in this program, in 2018, will include an autonomous European rover, capable of taking soil samples down to a depth of two meters, and analyzing their chemical, physical and biological properties. Thales Alenia Space Italy is industrial prime contractor. On the 2016 mission, it is in charge of designing the Entry, Descent and landing Demonstration module (EDM), while Thales Alenia Space France is responsible for the design and integration of the orbital module, or TGO (Trace Gas Orbiter). The main contribution of Roscosmos, in addition to providing equipment, scientific experiments and ground support, is to build the main part of the descent module for the 2018 mission, and also provide Proton launchers for each mission. The spacecraft that will reach Mars in October 2016 comprises the TGO and EDM modules. The latter was named "Schiaparelli", in honor of the Italian astronomer Giovanni Virginio Schiaparelli, considered one of the leading figures in 19th century Italian astronomy, and also a leading scholar of ancient astronomy science and history. "For Thales Alenia Space, our lead role in the extraordinary ExoMars program, as producer of the orbiter and the descent and landing module for on-site exploration of Mars, entails huge technological and human challenges", said Donato Amoroso, deputy CEO of Thales Alenia Space. "To meet this challenge, Thales Alenia Space called on over forty years of experience in exploration programs, in particular the successful Cassini/Huygens mission, which realized the daring feat of landing on Titan, one of Saturn's moons, as well as all European probes already sent to Mars, Venus, the comet Churyumov-Gerasimenko, and to Mercury in the future. The aims of the ExoMars 2016 mission are to:
Validate landing on the planet Mars with a demonstration capsule weighing about 600 kg, using a control system based on a radar altimeter, and with a carbon fiber shock absorber to attenuate the hard contact with the surface.
Gather as much information as possible during entry into the Martian atmosphere.
Carry out scientific sampling on the surface for a short period.
Observe the Martian atmosphere and surface for two years from the orbiter at an altitude of 400 km.
Provide the telecommunication support needed by the rover for the 2018 mission.
On the 2018 mission, Thales Alenia Space Italy is in charge of developing the navigation and guidance system for the orbiter and descent modules, designing the Martian rover system and building the analysis lab, which will be integrated in the rover. This lab is equipped with a "perforator", capable of digging in the Martian soil to a depth of 2 meters and taking samples.
About Thales Alenia Space
Thales Alenia Space, a joint venture between Thales (67%) and Finmeccanica (33%), is a key European player in space telecommunications, navigation, Earth observation, exploration and orbital infrastructures. Thales Alenia Space and Telespazio form the two parent companies' "Space Alliance", which offers a complete range of services and solutions. Because of its unrivaled expertise in dual (civil/military) missions, constellations, flexible payloads, altimetry, meteorology and high-resolution optical and radar instruments, Thales Alenia Space is the natural partner to countries that want to expand their space program. The company posted consolidated revenues in excess of 2 billion euros in 2014, and has 7,500 employees in eight countries.
www.thalesaleniaspace.com