EDEN-ISS Mobile Test Facility shipped to Neumayer III station for testing under extreme conditions
Thales Alenia Space and Telespazio are partner in the international EDEN ISS project to provide food for humans in space
Rome, October 10th, 2017
- The Mobile Test Facility (MTF) for the production of food and resources in a closed environment, part of the EDEN ISS project, has been shipped to the Neumayer III Antarctic station. It will be used to test plant cultivation under extreme conditions, to support the development of spaceflight-ready systems and technologies for controlled-plant growth in space and on the International Space Station.
The EDEN ISS consortium, led by German Aerospace Center (DLR) Institute of Space Systems in Bremen, has developed a Mobile Test Facility (MTF) that consists of two shipping containers subdivided into three distinct sections. The facility will be operated by a crewmember, with a large emphasis on remote monitoring and operations.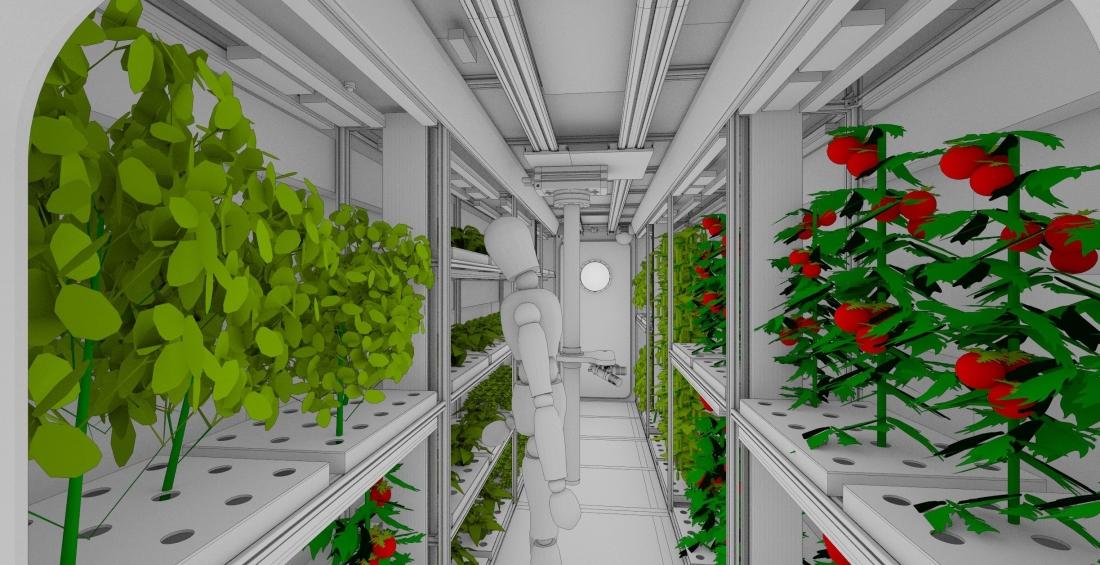 Thales Alenia Space, a joint venture between Thales (67%) and Leonardo (33%), is part of this exciting project, with responsibility for the design, development, lab testing and follow-up of one of the two greenhouses being tested in Antarctica: RUCOLA (Rack-like Unit for Consistent On-orbit Leafy crops Availability), dedicated to ISS testing in microgravity.
Leonardo also contributes to the EDEN ISS project through its joint venture Telespazio, responsible for defining and testing operational procedures during the deployment phase in Antarctica. This phase follows a ground demonstration of plant cultivation technologies for food production in space, and also calls on Telespazio's experience in the ground management of space operations.
In addition, Telespazio is in charge of the plant health monitoring system, which will acquire high-definition images of plants and send them to agronomy and plant pathology experts for remote monitoring of plant health during the entire growth process.
Funded by the European Union's Horizon 2020 Program, the EDEN ISS project focuses on the "Ground Demonstration of Plant Cultivation Technologies and Operation in Space" and the enhancement of these technologies. The ultimate aim is "Safe Food Production on the International Space Station and Future Space Exploration Vehicles and Planetary Outposts."
This project entails the development of technologies for the production and regeneration of vital resources, to ensure the sustainability of life during space exploration missions, while also producing spinoffs that will benefit people's lives down on Earth.
Thales Alenia Space has capitalized on its expertise to play a significant role on the International Space Station, for instance by contributing to the production of more than half of the pressurized and transport modules, but also by supporting a wide range of scientific experiments for future space exploration.
In cooperation with fourteen international organizations, including universities, research institutes, corporations and small businesses, Thales Alenia Space provides key contributions to sustaining humans in space and to exploring new worlds that may one day be home to humanity.
About Thales Alenia Space
Combining 40 years of experience and a unique diversity of expertise, talents and cultures, Thales Alenia Space architects design and deliver high technology solutions for telecommunications, navigation, Earth observation, environmental management, exploration, science and orbital infrastructures. Governments, institutions and companies rely on Thales Alenia Space to design, operate and deliver satellite-based systems that help them position and connect anyone or anything, everywhere, help observe our planet, help optimize the use of our planet's – and our solar system's – resources. Thales Alenia Space believes in space as humankind's new horizon, which will enable to build a better, more sustainable life on Earth. A joint venture between Thales (67%) and Leonardo (33%), Thales Alenia Space also teams up with Telespazio to form the parent companies' Space Alliance, which offers a complete range of services and solutions. Thales Alenia Space posted consolidated revenues of about 2.4 billion euros in 2016 and has 7,980 employees in nine countries. www.thalesaleniaspace.com
About EDEN ISS

The EDEN ISS consortium comprises leading European, Canadian and American experts in human spaceflight and controlled environment agriculture (CEA). Its scientific advisory board includes top CEA experts from Russia, the United States, Japan, Italy and Germany. The consortium is led by the German Aerospace Center's (DLR) Institute of Space Systems in Bremen, Germany and includes the following partners: DLR Institute of Aerospace Medicine in Cologne, Germany, LIQUIFER Systems Group, Austria, National Research Council, Italy, University of Guelph, Canada, Alfred Wegener Institute for Polar and Marine Research, Germany, Enginsoft S.p.A., Italy, Airbus Defense and Space, Germany, Thales Alenia Space, Italy, Aero Sekur S.p.A., Italy, Wageningen University and Research, Netherlands, Heliospectra AB, Sweden, Limerick Institute of Technology, Ireland, Telespazio S.p.A., Italy, University of Florida, USA.
Contact
Sandrine Bielecki
+33 (0)4 92 92 70 94