Flying back to the Moon, monitoring Earth's environment, bridging the digital divide, developing new geolocation solutions and guaranteeing Europe's sovereignty in space — that's what Thales Alenia Space is talking about at the Paris Air Show, June 19 to 25. We will be showcasing our latest solutions for Earth observation, telecommunications, navigation and space exploration.
Space to connect
Bridging the digital divide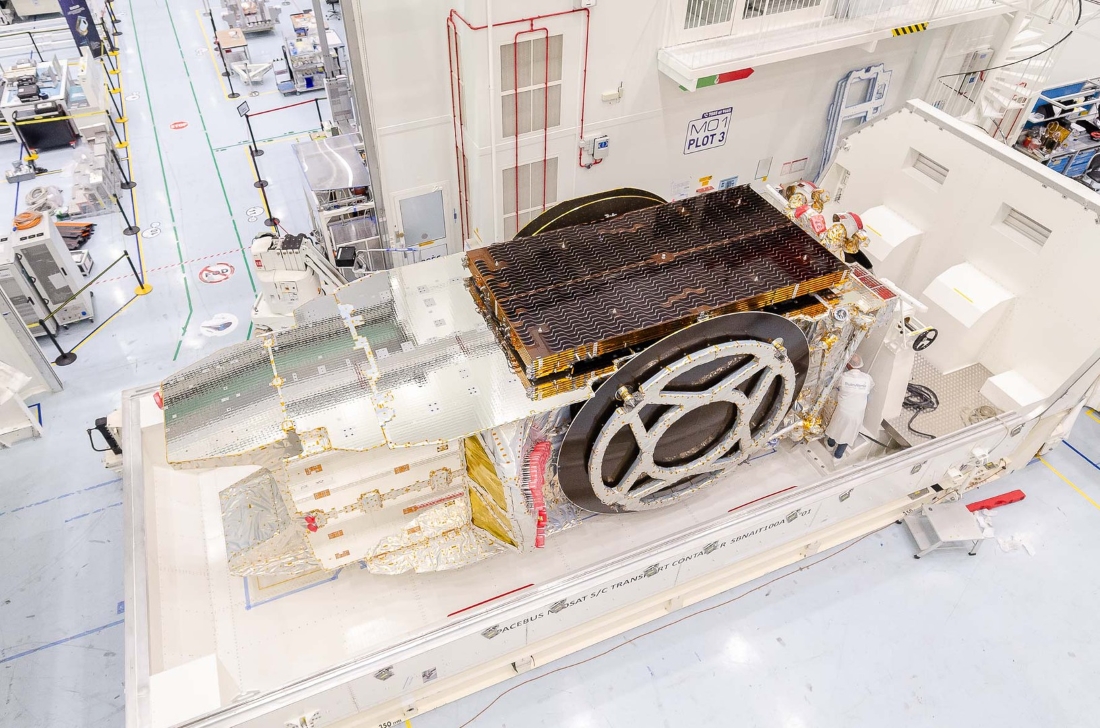 EUTELSAT KONNECT VHTS © Thales Alenia Space/Imag[IN]
The satcom market and operator needs are moving ahead fast. And manufacturers like Thales Alenia Space are ahead of the curve. We're developing bespoke solutions. End users want anytime, anywhere connectivity on the move and instant access to burgeoning amounts of data. There's also the problem of not-spots — those remote, underserved locations where terrestrial communication infrastructure just doesn't work. Bridging the digital divide is still an issue for our societies today. And that includes Europe. Satellite communication systems are the clear solution to this demand in today's fiercely competitive and fast-evolving market.
Space INSPIRE © Thales Alenia Space
Thales Alenia space has been leading the telecommunications market in 2021 and 2022. Last year, the company was awarded several contracts to build six communication satellites, including 5 based on our new Space INSPIRE solution. This extremely flexible software-defined solution can be reconfigured in orbit and has already been selected by major operators such as SES, Arabsat, Intelsat and Eutelsat.
Digital connectivity for all
SATRIA © Thales Alenia Space/Imag[IN]
Operating alongside terrestrial infrastructure, satellite communication systems deliver a whole host of services — TV and radio broadcasting, broadband internet and more — to bring digital connectivity to all. SES-17 was launched in 2021 and came on stream in 2022. This geostationary broadband communication satellite gives SES customers continuous mobile connectivity across a vast coverage zone from the Americas to the Atlantic and Caribbean.
Thales Alenia Space is also prime contractor for EUTELSAT KONNECT VHTS, the most powerful satellite ever built in Europe. It will provide very-high-throughput internet across Europe, including remote regions with patchy coverage, offering service on a par with terrestrial fiber networks. EUTELSAT KONNECT VHTS will deliver 500 Gbps capacity across the continent and will play a major role in bridging the digital divide.
We also built the SATRIA satellite, which will bridge the gap in Indonesia. This very-high-throughput satellite will connect thousands of schools, hospitals, public buildings and government facilities not already served by current satellite or terrestrial systems.
Record number of telecom constellations
© Thales Alenia Space
Thales Alenia Space has always been the go-to partner for satellite constellations. After building nearly 70% of the first Globalstar consolation, we've been prime contractor for three other major LEO and MEO constellations: Globalstar 2, O3b and Iridium® NEXT (most recent launch in May). Drawing on this vast expertise, we're offering new solutions to address Europe's need for sovereign communication capabilities. The best solution to the design challenges of Europe's future IRIS2 (Infrastructure for Resilience, Interconnectivity and Security by Satellite) constellation is multi-orbit configuration. A combination of orbits is the best way to deliver on government and commercial requirements. Thales Alenia Space is one of the only companies with proven capabilities spanning LEO, MEO and geostationary orbits.
Space to observe and protect
Imagine life without Earth observation systems. For several decades, Earth observing satellites — for oceanography, weather forecasting and environmental monitoring — have been our vital eyes in the sky. They provide the science community with the crucial data they need for understanding the climate phenomena affecting our planet.
Sentinels keeping watch
© Thales Alenia Space
Copernicus is the world's most ambitious environmental monitoring program. Its 12 families of Sentinel satellites are constantly monitoring the Earth, its topography and polar regions, seas, lakes and oceans. Copernicus missions also include climatology payloads for measuring human-induced CO2 and new applications for protecting biodiversity and fostering sustainable farming. This large-scale program will help Europe predict the impacts of global warming so we can better safeguard our planet. The satellites and ground segments are built by European companies for the European Space Agency (ESA) on behalf of the European Commission. Thales Alenia Space is a major contributor to 11 of the 12 Copernicus families.
Deep-dive insights into oceans, lakes and rivers
SWOT © Thales Alenia Space/Imag[IN]
Thales Alenia Space is also a global leader in space altimetry. Our radar altimeters are flying on the world's most important oceanography satellites, including the French-American SWOT (Surface Water and Ocean Topography) satellite, set to revolutionize oceanography and continental hydrology. The satellite for this joint program by NASA and the French space agency CNES was mostly built by Thales Alenia Space in cooperation with NASA's Jet Propulsion Laboratory. SWOT was launched in December 2022 and has a controlled atmospheric reentry system, so it won't create any debris at the end of its life. This masterpiece of technology will monitor 90% of Earth's lakes, rivers, reservoirs and oceans.
Better weather forecasting
First MTG imaging satellite © Thales Alenia Space/Imag[IN]
Thales Alenia Space has always been at the forefront of geostationary weather satellites in Europe and has been prime contractor for three generations of Meteosat satellites. We're currently working on Meteosat Third Generation (MTG), comprising four imaging and two atmospheric sounding satellites. The imaging satellites carry lightning detectors. The sounding ones are designed to map the atmosphere in 3D. Once all six MTGs are operational, EUMETSAT, the European Organization for the Exploitation of Meteorological Satellites, will offer the world's most sophisticated weather forecasting services. Arianespace orbited the first imaging satellite in December 2022. EUMETSAT and ESA unveiled the first image from the satellite to the public in May 2023.
Space to secure and defend
Space is also playing an increasingly vital role in defense, especially for military communications, space-based intelligence, navigation and security.
Military satellite communication systems
Milsatcom systems will be increasingly interconnected, forming a true spaceborne network that is both resilient and diversified (with multiple orbits). Thanks to our systems, armed forces can rely on an optimal combination of the global coverage and short latency of LEO, MEO and polar constellations and the power and resilience of geostationary satellites, like Italy's SICRAL 3 system and its French equivalent, Syracuse IV. These systems deliver the mobility, performance and security our militaries need.
Space-based intelligence
BlackSky © Thales Alenia Space
Many countries use our space systems to gather high-precision imagery. These systems draw on our unrivalled expertise encompassing optical and radar instruments and high and very-high-resolution technology. The return of war in Europe has raised the question of space-based observation systems, including high-performance combined radar and optical systems. Intelligence relies on these new technologies, as deployed with the BlackSky optical observation constellation and its Iride radar counterpart, both offering high revisit rates. Thales Alenia Space has proven expertise in all these areas, which are helping boost Europe's independence in space, especially with the IRIS2 communication constellation.
Stratobus © Thales Alenia Space
Intelligence can also call on StratobusTM. This autonomous, multimission stratospheric airship is the perfect complement to satellite systems and is the missing link between drones and satellites. StratobusTM is designed for civil and military applications across a whole host of sectors, from telecommunications to navigation and observation. StratobusTM marks a break with current systems, since it doesn't require a launch vehicle, and will address the needs of security and defense organizations, for example by offering continuous surveillance of a region.
Positioning and navigation
Galileo Second Generation © Thales Alenia Space
Satellite navigation systems like Galileo deliver highly accurate positioning and timing services, which are crucially important for our armed forces. They offer the accuracy needed to determine the exact position of units in the field, optimize movements and synchronize weapon systems using a single time reference.
Thales Alenia Space developed the ground mission segment and security system for the first-generation Galileo constellation. We're now developing the first six satellites for the second-generation constellation. We're also working on a new low-orbiting positioning, navigation and timing (LEO PNT) concept, which will make Galileo signals even more robust.
Controlling space
Space today is a potential theater of conflict. More than ever, knowing what's happening in space and controlling it is critically important, because our militaries rely on spaceborne capabilities.
Thales and Thales Alenia Space have pooled their strengths on a number of key initiatives, from enhanced space situational awareness to active space-based assets to protect satellites and C2 systems for planning and conducting space operations.
Sustainability in space is a major challenge for all stakeholders today: space agencies, operators and industry. At Thales Alenia Space, we're building eco-design principles into our products and playing a key role in sovereign European programs like Copernicus for environmental monitoring and the Galileo global navigation satellite system, which helps calculate the most efficient air and sea routes and reduce our energy dependence.
Space to explore
Destination Moon
Building on our unrivalled experience with the International Space Station — for which we supplied most of the pressurized modules, including the iconic Cupola observation module — Thales Alenia Space is now supplying three pressurized modules for the Lunar Gateway space station. The Gateway is part of NASA's Artemis program, which will send astronauts back to the Moon's orbit and surface. What looked like science fiction is fast becoming a reality. The program will establish a Moon Village, with a permanent human presence on the surface, complete with exploration rovers and a vast array of solar panels to power everything. That's all we can say right now — but come to the Paris Air Show and we'll tell you more.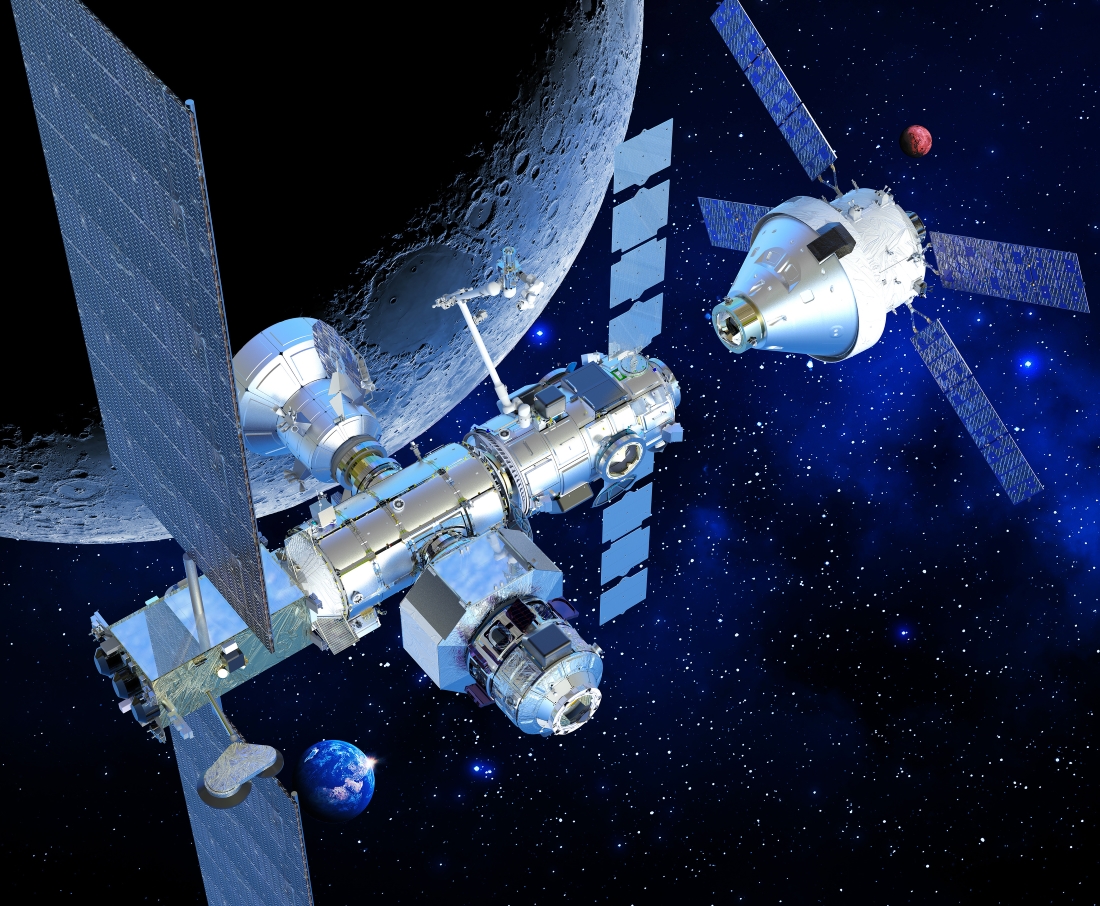 Lunar Gateway © Thales Alenia Space
If you've always dreamt of being an astronaut, visit our booth for an unforgettable experience. Our virtual reality demonstrator will plunge you and your fellow crew members into space and the Lunar Gateway.
More sustainable space
Here at Thales Alenia Space, our experts are working on space vehicles for on-orbit servicing. These highly versatile vehicles perform a whole host of robotic tasks in orbit, from inspection and maintenance to refueling and satellite life extension — making a huge contribution to sustainability in space.
Other futuristic concepts we're working on include space edge computing, space datacenters and replacing conventional satellite propellants with water power.
The "Satellite dress"
When space meets fashion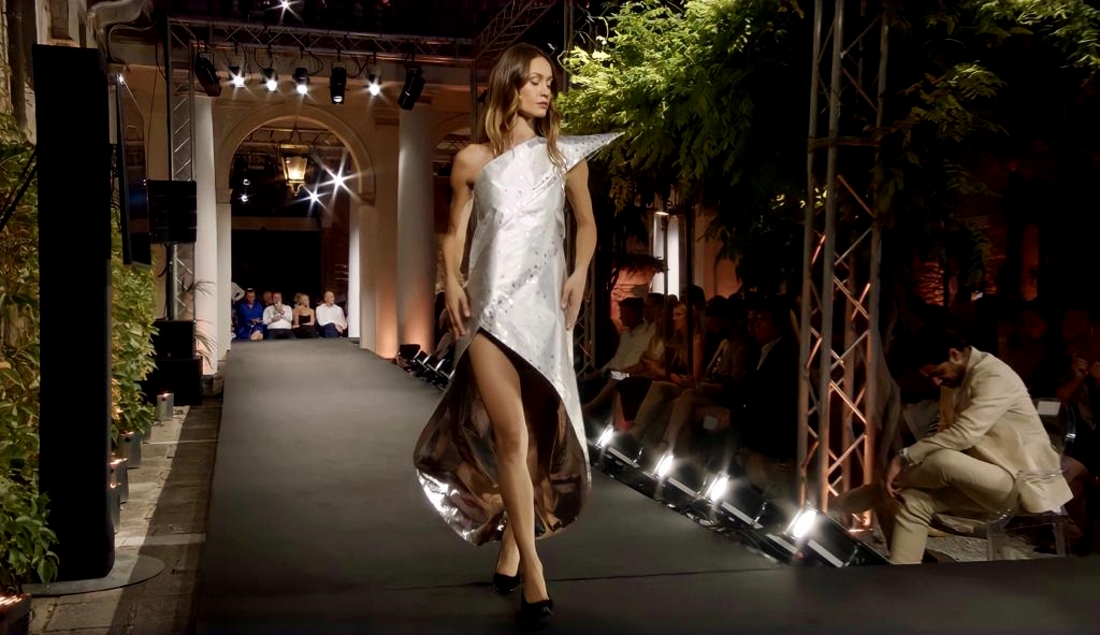 © Pierre Cardin
Thales Alenia Space provides Northrop Grumman with all the pressurized cargo modules for the Cygnus vessels ferrying supplies to the ISS twice every year — food and water, propellant, science experiments, tools, personal items and more. These modules have insulation linings to protect them from the wild temperature swings in space. Fashion design house Pierre Cardin has drawn inspiration from these linings to create a magnificent "satellite dresse" from the same material — on display at our booth.
This meeting of minds between Pierre Cardin and Thales Alenia Space is a chance to raise public awareness about the urgent need for sustainable development.
It's just one example of the many things we're doing right now. Want to know more? Come talk to us at the Thales pavilion!