In the Spotlight
Meet Hélène Gachon
Digital processor expert for communications satellites
Talents
Meet Hélène Gachon
Digital processor expert for communications satellites
Can you describe your career path for us?
As a keen ice skater in my youth, I initially combined sport and studies, which brought me into contact with diverse cultures and above all gave me a taste for challenge. But I made a clear choice when deciding to become an engineer. I subsequently followed the conventional path of two years of intensive preparation for the highly competitive entrance exam to engineering school. I'm a graduate of INPG, the Grenoble polytechnic institute, with a major in signal processing.
In 1994, I got an engineering internship with Thales Alenia Space (at that time Alcatel Espace) in Toulouse, and I've worked there ever since! I started off in radar observation, but was soon assigned to communications missions. I worked on a series of programs developing an avant-garde technology for geostationary communications satellite payloads called a digital transparent processor (DTP), a game-changer that has given satellite communications operators much more flexibility.
After a first post as technical lead for a subassembly, I was tasked with creating the DTP product line. My job was to define the roadmap, source the required technologies to develop the digital processor, and support all phases through to delivery and commissioning. In 2016, I was named a DTP technical expert.
This technology is found on the largest communications satellites, like SES-17, EUTELSAT KONNECT VHTS and Amazonas Nexus, launched early this year. The fifth-generation DTP is operating in orbit since mid-2022. We're currently working on the sixth generation for our Space Inspire satellite payloads. Last year we were very successful in the geostationary satellite market, being selected as prime for six out of the ten satellites that were competitively sourced; five of those will be based on our Space Inspire solution, which has won over leading operators like SES, Intelsat, Arabsat and Eutelsat.
What are you most proud of in your day-to-day activity?
© Thales Alenia Space
I was very proud when our first digital processor flew for the first time, on a military communications satellite in the 2000s. Initially, few people believed in the technology, but fortunately we soon started getting great feedback from customers. Today, it sets the standard in telecommunications applications. The DTP enables payload capacity to be matched to mission connectivity requirements, and to evolving market conditions over the satellite's lifetime. Each new generation has drastically reduced the cost per Gbps, and in the space of 20 years the DTP's capacity has increased a thousand fold.
Thales Alenia Space's telecom product lines have developed significantly in the last dozen years. Our Spacebus NEO and Space Inspire families of satellites are built around all-electric spacecraft buses that can carry larger payloads, for increased capacity and sophistication. At the same time, DTP technology has gained traction.
Space INSPIRE © Thales Alenia Space
Our engineering teams are working with our partners to design and build satellites that afford ever more capacity and flexibility. We're all eagerly awaiting the launch of the first satellite built around our Space Inspire midsize bus. This solution offers the advantage of being digital, ultra-flexible, and above all reprogrammable in orbit, including its spot beam coverage. Digital technology and flexibility enable operators to allocate capacity anywhere, anytime, whatever the frequency band. Space INSPIRE will fly numerous new technologies like flexible solar arrays, active antennas, and of course the sixth-generation DTP.
Which event in your career have you enjoyed the most?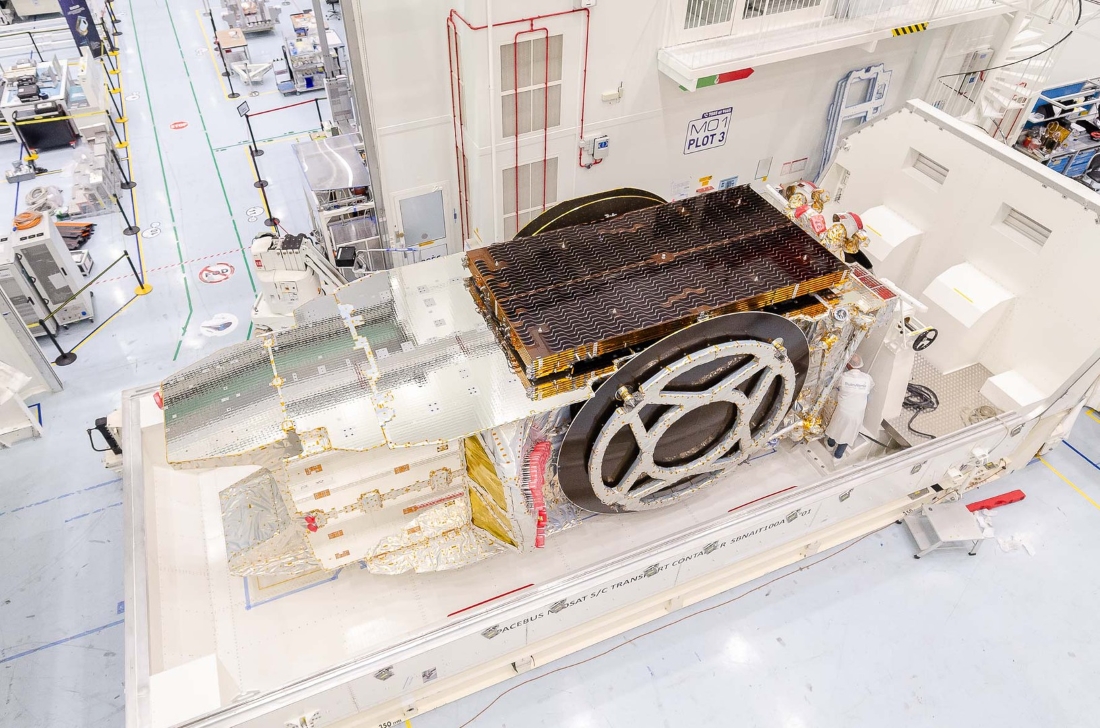 EUTELSAT KONNECT VHTS © Thales Alenia Space/Imag[IN]
Several come to mind. I already mentioned the first DTP to fly on a military satellite. That was a key milestone for our teams, because it marked the start of the adventure. The second was the entry into service of the SES-17 satellite, which signaled the advent of flexible payloads. It was designed to deliver mobile connectivity services to SES customers anywhere, on land, at sea or in the air. The satellite's broad coverage zone extends over both North and South America, the Atlantic Ocean and the Caribbean. It's the first satellite carrying our fifth-generation digital processor (DTP5G). Another one that stands out for me is EUTELSAT KONNECT VHTS, the largest and most powerful communications satellite ever built in Europe. Our teams who worked on this program can take great pride, as the satellite is going to help bridge the digital divide in Europe, bringing fast-broadband Internet to previously unserved areas. It's designed to bring digital services to European citizens everywhere, and is also carrying the DTP5G.
What are the qualities required in your profession?
You need to be a good team worker, with ambition, curiosity and an open mind. I'm in the habit of saying that with a good team, a little perseverance, and by always striving to anticipate future needs, anything is possible!