Lunar Gateway's Habitation And Logistics Outpost (HALO) is moving forwards. Thales Alenia Space, in coordination with prime contractor Northrop Grumman, marks a first major milestone regarding the Lunar quest: the welding of two components, a ring and a cylinder for HALO, initiating the assembly of the module's primary structure. This memorable moment happened recently in our Turin plant.
This first milestone confirms the longstanding partnership between the two companies and their unrivaled expertise in flight-proven spacecraft technologies, allowing the delivery of this state-of-the-art deep space habitat.
Focus on HALO
HALO will be one of the first two elements, together with the Power and Propulsion Element (PPE), to form Lunar Gateway, scheduled for launch in 2024, as a part of Artemis mission, led by NASA.
The module will be the initial habitat for astronauts visiting Gateway, their basic living space, enabling the preparation for the trip to the lunar surface. It will provide command, control and data handling capabilities, energy storage and power distribution, thermal control, communications and tracking capabilities. It will be equipped with 3 docking ports for visiting vehicles and future modules, as well as space for science and stowage. With NASA's Orion spacecraft docked, it will be able to sustain up to four astronauts for up to 30 days as they embark on, and return from, expeditions to the lunar surface.
Leveraging on its long-lasting legacy concerning Cygnus resupply vessels, for which Thales Alenia Space has provided all the pressurized cargo modules since 2013, our company will be able to deliver HALO's pressurized module to Northrop Grumman, respecting a very ambitious schedule, while maintaining the highest quality standard.
The Moon at our fingertips
At Thales Alenia Space we are enthusiastic of being involved in Lunar Gateway, one of the pillars of NASA's Artemis program, which aims to land people on the Moon by 2024. Our company has leveraged on its unique expertise regarding orbital infrastructures (producing half of the International Space Station's pressurized volume), robotics, transportation systems & space exploration to become a top industrial partner onboard the cis-lunar Gateway space station.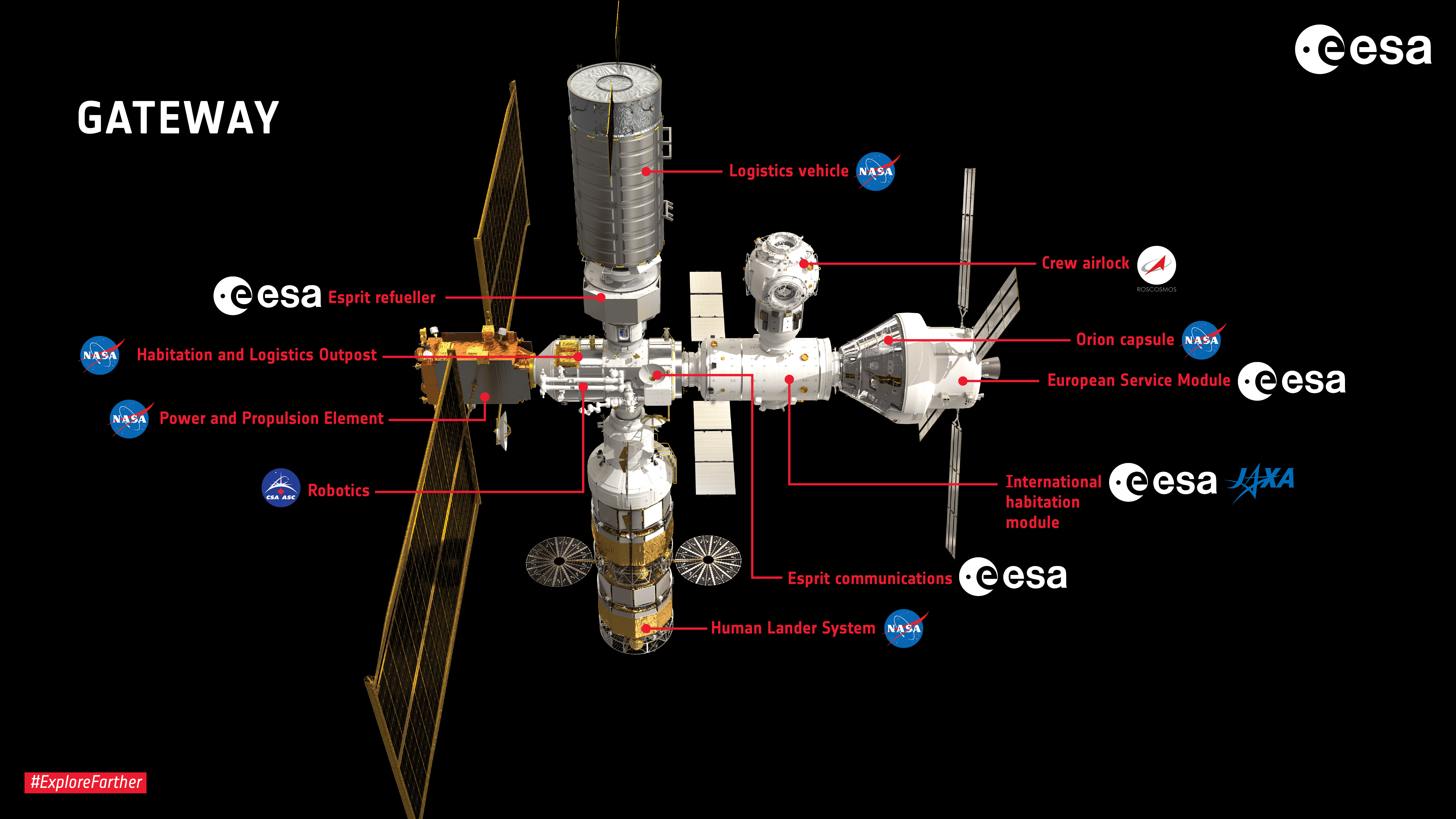 In addition to HALO pressurized module, Thales Alenia Space was selected by ESA as the prime contractor for 2 additional elements, I-HAB and ESPRIT, dedicated to Gateway cislunar space station. We're also onboard numerous programs linked to lunar exploration. While American company CommStar Space is counting on us to deploy a hybrid Earth-Moon communications relay satellite by 2023, we'll also be supplying Earth-Moon telecom technologies for NASA's VIPER rover, which will search for water on the surface. And we're onboard the Dynetics-led consortium to help develop the Human Landing System for Artemis.
Dynetics
We've also been chosen by Axiom Space to provide 2 pressurized components of their future commercial space station, for which French designer Philippe Starck was selected to create interiors of the habitation module.
These recent successes strengthens Thales Alenia Space's world leadership in orbital infrastructures and confirms its leading position in lunar exploration programs.
The space odyssey to the moon has never been so close!
Photos © Thales Alenia Space - artistic view: ©ESA - ©Dynetics - ©Thales Alenia Space/Briot