Have you heard of ColRobot? It stands for Collaborative Robotics for Assembly and Kitting in Smart Manufacturing, and it's a European R&D project being conducted as part of the European Commission's Horizon 2020 (H2020) program. Learn more about ColRobot
Coordinated by French engineering school ENSAM [Ecole Nationale Supérieure des Arts et Métiers], the project comprises 11 European partners, including schools, research institutes and two manufacturers, as end-users: Renault and Thales Alenia Space. The project kicked off in February 2016 and came to an end just a few weeks ago. Consortium partners
ColRobot put to the test in a satellite-maker's clean rooms
Independently of this European study, Thales Alenia Space has already deployed robots in our clean rooms at Cannes, and cobots (collaborative robots) at the plant in L'Aquila, Italy. The clean rooms are where satellites are assembled, integrated and tested (AIT), before being shipped to the launch bases.
With the advent of new requirements, especially mega-constellations comprising dozens of satellites, we have to be capable of volume production. At this scale, we have already used cobots for "kitting" (i.e., putting together "kits" of the parts needed for different assembly steps). ColRobot first put together a kit of fasteners in a specific box. Next, it was able to transport this kit from the warehouse to the integration station, and then participated in the assembly by holding certain components while the operator tightened screws, bolts, etc. In fact, this demonstrated real "teamwork" between robot and operator. In addition to improving reliability and reducing production cycles and costs, the use of cobots will free operators from repetitive tasks and optimize their time so they can focus on more complex and higher value-added integration tasks.
The ColRobot project is an integral part of a comprehensive strategic approach anchored in innovation: the Factory of the Future. In the fiercely competitive communications satellite sector, it is more than ever vital to manufacture "more, cheaper and faster". Automation has become a necessary enabler to product more satellites more quickly, within a fast-changing industrial environment.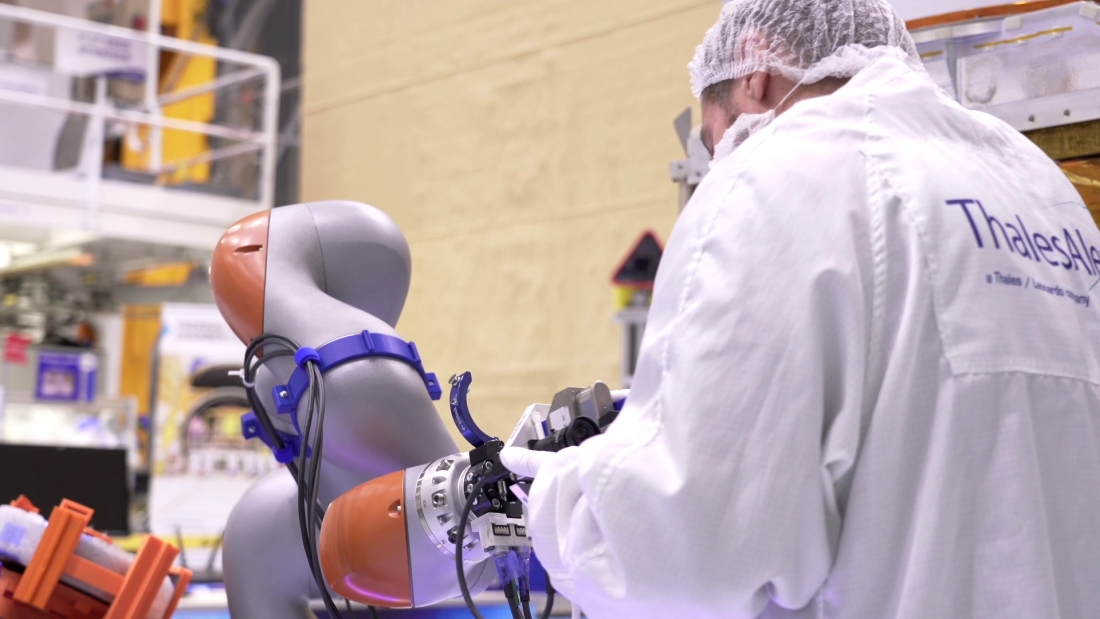 The Factory of the Future is naturally aiming to introduce state-of-the-art production technologies. And the trend is already well under way, with a stream of innovations coming online in the last few years: additive manufacturing, virtual and augmented reality, the Internet of things, robots and cobots in AIT, etc. In short, the future is now in Thales Alenia Space's clean rooms!
Thales Alenia Space's role in ColRobot and Horizon 2020
As part of the ColRobot project, Thales Alenia Space was in charge of specifying applications for the space industry. The last six months of the project were dedicated to testing and validating technologies used on the demonstrator.
Thales Alenia Space is a leading participant in the Space section of the H2020 program, designed to foster innovation and improve Europe's competitiveness in this sector.
We are heavily involved in a number of H2020 projects, as either coordinator or partner.
The ColRobot project received funding from the European Union's Horizon 2020 research and innovation program, under the subsidy agreement No. 688907.
Photos & video:  © Thales Alenia Space & © ColRobot consortium