In the Spotlight
CABSAT spotlights Thales Alenia Space's extended range of satellite solutions
In the Spotlight
CABSAT spotlights Thales Alenia Space's extended range of satellite solutions
For the second year in a row, Thales Alenia Space is participating in CABSAT, the international broadcast, satellite and digital media event, running from March 10 to 12, 2015 in Dubai. Organized in conjunction with major space and telecom players from the Middle East, Africa and South Asia, CABSAT is the only event in the region dedicated to broadcast and production, content and communications via satellite.
On the Thales Alenia Space stand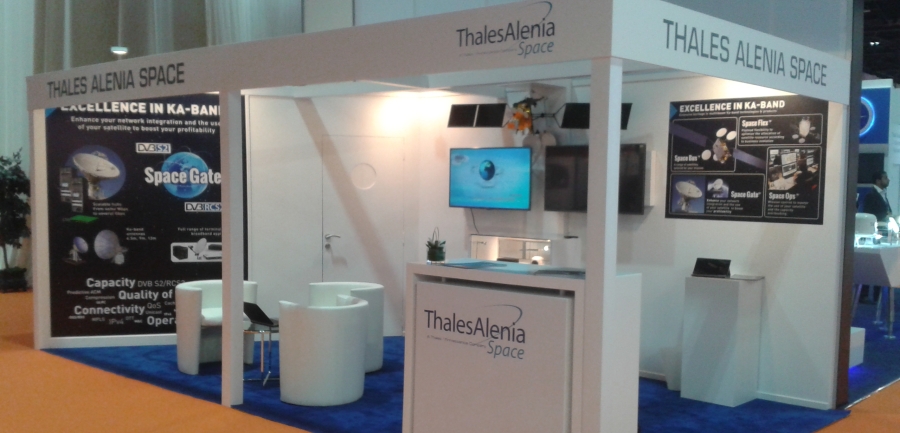 Thales Alenia Space is showcasing its telecom expertise, especially for end-to-end Ka-band solutions, including flexible payloads, IP network equipment and operational resources for satellite systems. The Spacebus product range, including the brand-new Spacebus NEO platform, is also being spotlighted on the Thales Alenia Space stand. During the show, Thales Alenia Space will be presenting three new telecom product lines: SpaceFlex, SpaceGate and SpaceOps. Above all, this event is a sterling opportunity for Thales Alenia Space to meet delegations from countries in the Middle East, Africa and South Asia, as well as surrounding regions, all of whom are meeting at the CABSAT trade show and exhibition.
Ka band
Athena-Fidus
What's Ka?
The Ka band is the frequency band between the K and Q bands. It is increasingly used by satellite operators, especially for broadband Internet access. Thales Alenia Space is a pioneer in Ka-band applications.
Thales Alenia Space: proven expertise
Thales Alenia Space's solutions are based on expertise in multibeam Ka-band technologies built up over the last 20 years, and ranging from complete systems (Syracuse, Yahsat, O3b, Athena-Fidus, Sicral, etc) to components and subassemblies. A pioneer in Ka-band applications since 1991, Thales Alenia Space has been involved in over 20 major programs to date, and has always been a technology leader.
About SpaceFlex (flexible payloads)
Flexible payloads
The guiding principle behind the development of Thales Alenia Space's flexible payloads is, "Planning for the unexpected". In effect, the company developed a wide range of solutions, enabling operators to adapt to unexpected developments during satellite construction or even in orbit. These solutions allow the satellite to be reconfigured in flight, including changes in service zones, new satellite power allocations between service zones, variable frequency communications channels, frequency hopping for encrypted communications, and flexible, interference-resistant satellite remote control.
About SpaceOps
SpaceOps is a suite of products designed to handle satellite and mission operations. It guarantees satellite and payload management, while delivering maximum cost-effectiveness. The associated subassemblies are used to develop the space segment configuration, monitor signals that transit via the satellite, and above all ensure that satellite resources are available to networks, with optimized overbooking management.
About SpaceGate
SpaceGate is a telecom product that ensures IP connectivity between ground networks, especially the Internet, and users of IP satellite networks. Introduced in 2014, SpaceGate is a broadband satellite telecom solution designed for general public, professional and governmental Internet access applications, via fixed and mobile stations. It covers IP traffic management and optimization products, signal modulation and demodulation to the DVB standard, base stations and user terminals. A powerful, interoperable solution, SpaceGate bolsters Thales Alenia Space's ability to offer turnkey satellite communications systems, including the ground and space segments, that perfectly match user requirements.
About Spacebus NEO
Spacebus NEO is the new line of platforms from Thales Alenia Space for geostationary telecom satellites. It will be available in different versions, including one with all-electric propulsion.
SpaceBus NEO
A wide variety of configurations
These new platforms are available in a variety of versions for all types of geostationary satellites, from small to extra-large. Operators can choose the configuration that matches their exact needs, including all-electric, hybrid and all-chemical propulsion solutions. Starting in 2016, they will be available to carry payloads up to 2 metric tons, with onboard power of up to 20 kW.
All electric
The Spacebus NEO all-electric version will be marketed starting in mid-2015. It will be able to handle payloads exceeding 1,400 kg, with more than 16 kW of power.